Felicity is a state of happiness or the quality of joy. And that's how we describe our short stay in Ferra Hotel Boracay. It's our second time in Boracay, This time peak season. One of the busiest week of the year.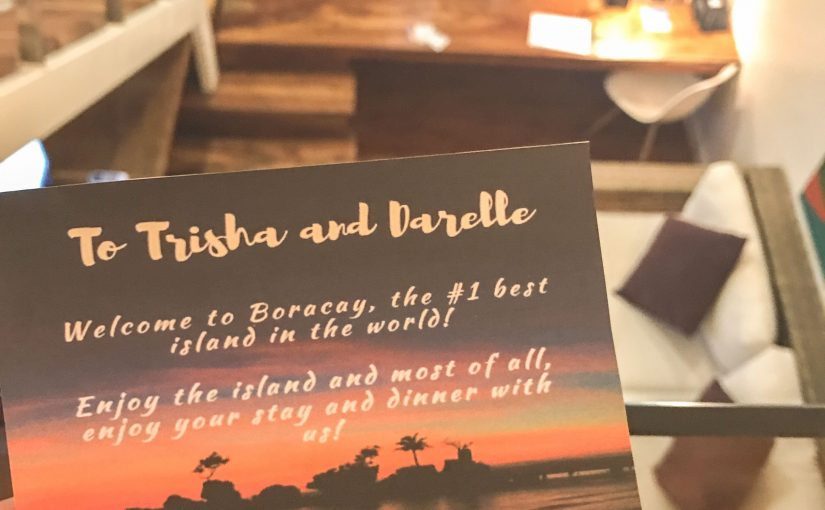 Ferra Hotel Boracay is a chic, modern boutique hotel with world class branded and personalized service which offers a genuine smile and utmost hospitality through all guest. The hotel is located in the heart of Boracay, distant enough from the party scene the front beach so you can have a wonderful and silent night in Boracay.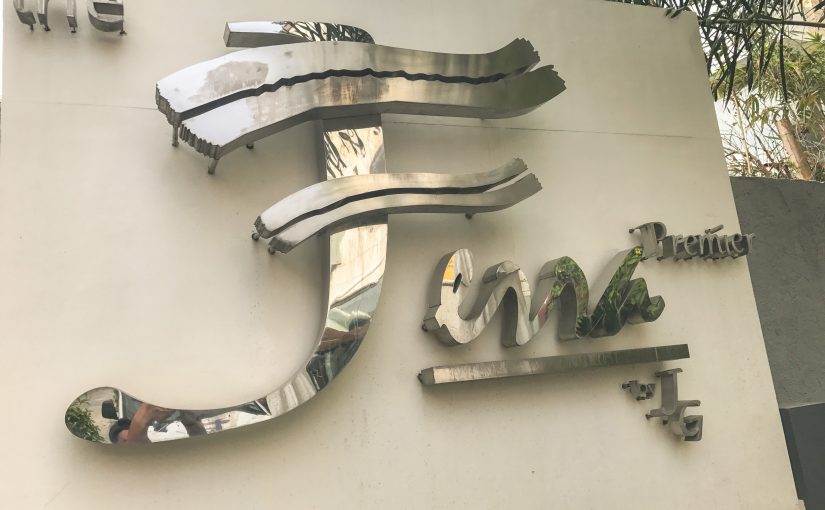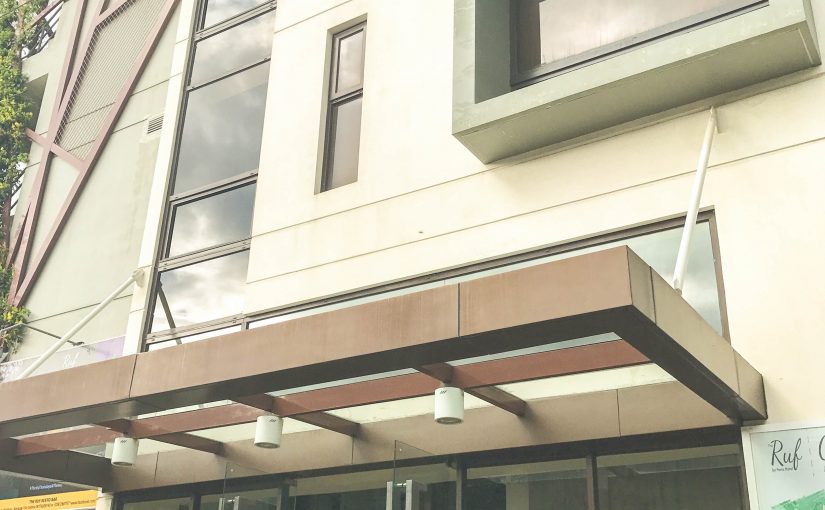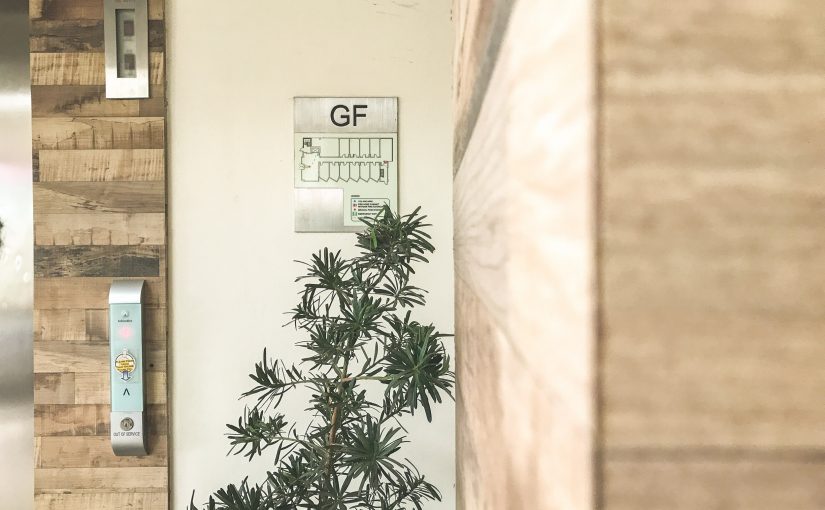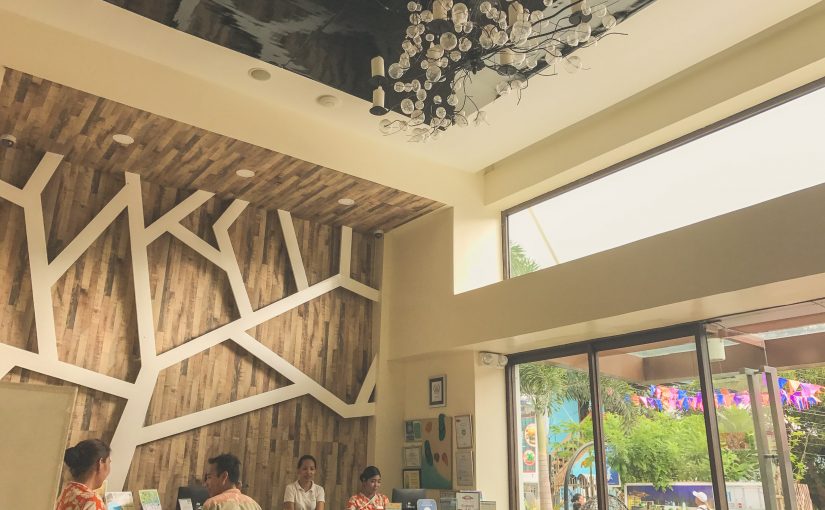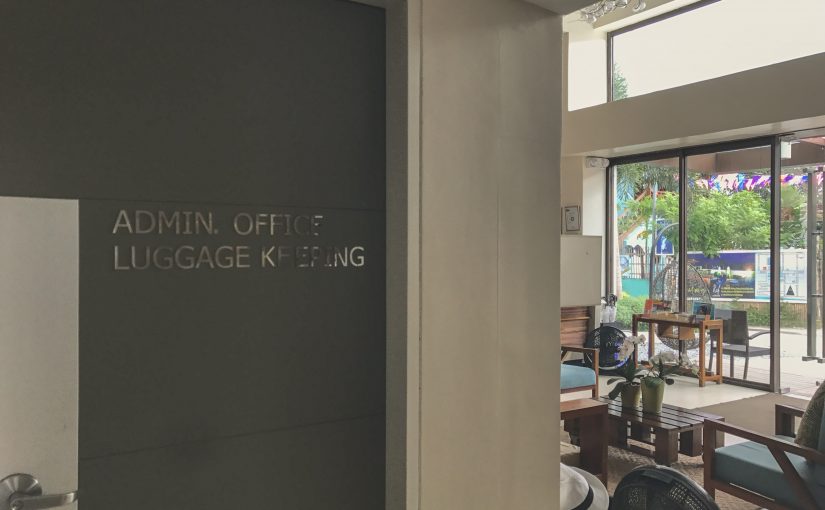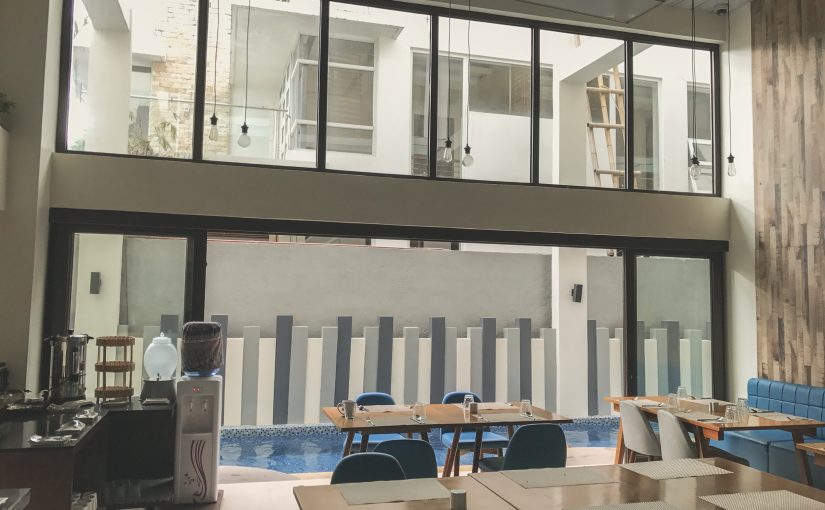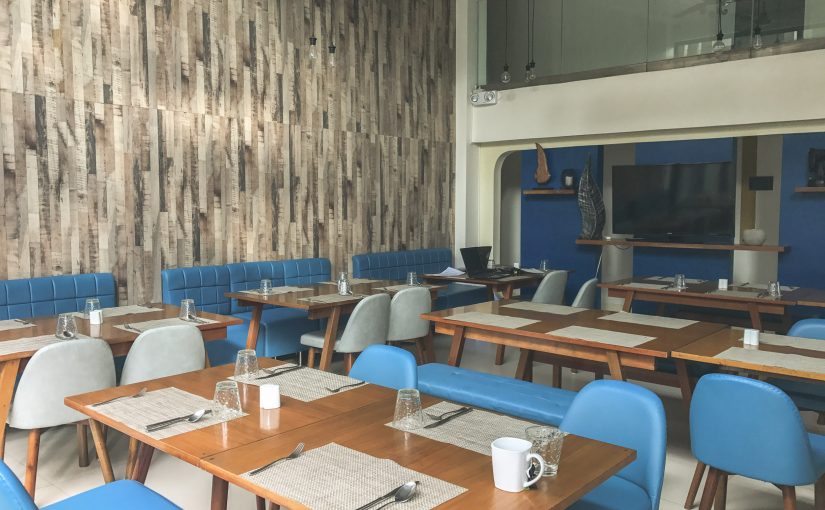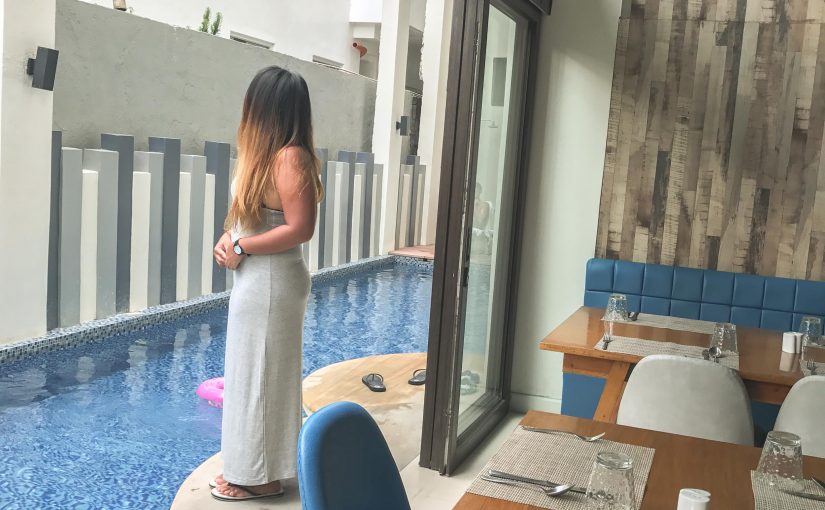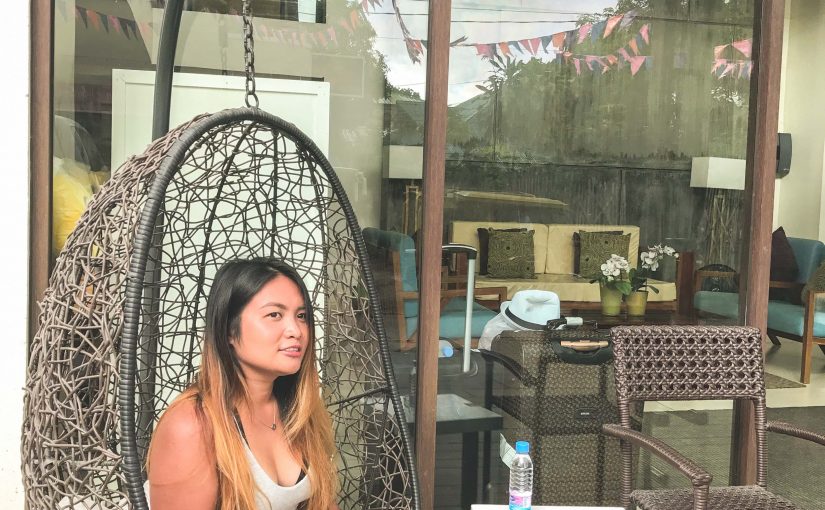 Upon arrival, we were greeted by the large stone artwork at their lobby and also by the happy and energetic aura of the staff. This hotel is situated on the less busy street of Boracay.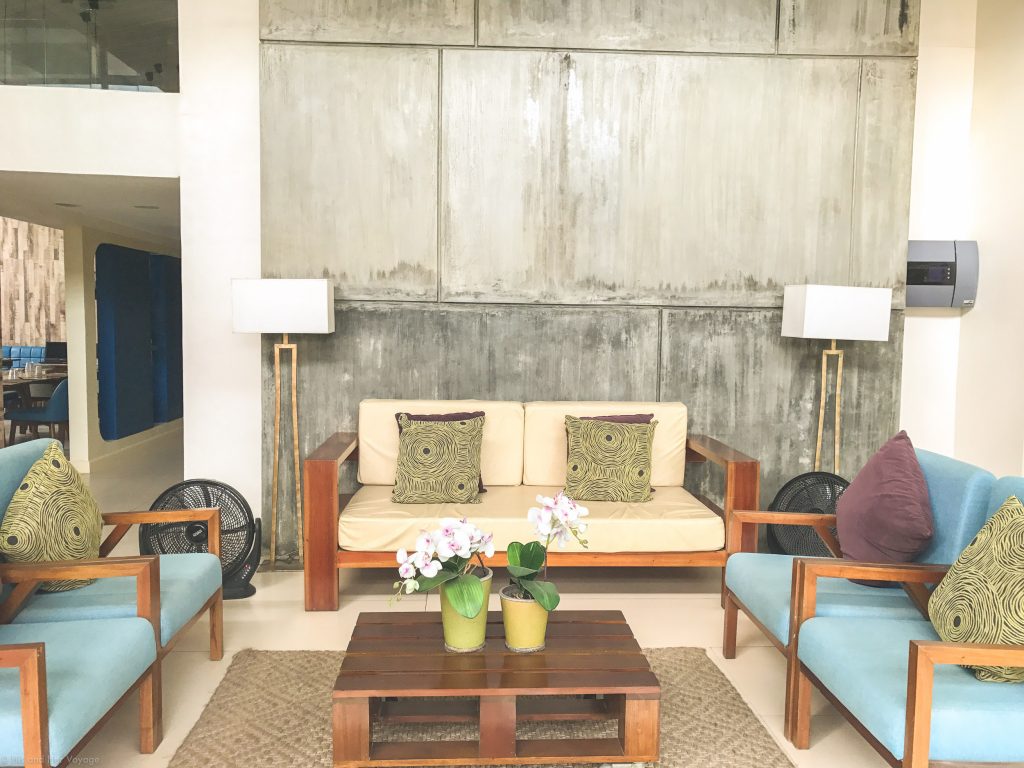 We were given a One Loft Bedroom. I got giddy up about this loft room. Coz I never been to a hotel with a loft type so yeah this will be the first.

Checking in was a breeze. We got served a complimentary drink upon checking into our rooms.

They have prepared us to stay at their One Bedroom Loft. Once we stepped into the room. I was in awe about our Loft. The room design is a mix of wood and bright hues and modern twist.
In my mind whispering,
I will seriously consider a loft type for my first pad.
Our room is super cozy and it's big for us that you can dance in the middle of the room. That is why this Loft Bedroom is good for honeymooners, at least now I know where will be staying in Boracay when we got hitched sometime in few years lol #assuming he will propose to me. 
Anyway Loft bedroom consist of…
2 Flat screen TV, 2 split type air-con but most of the time we used the air-condition downstairs as the room got super cold in just a few minutes after turning it on. We also love the working desk connected to the stairs. Great concept and nicely done. The loft room is well lighted perfectly for those instagrammable shots.

The loft type is so spacious you can fit a family of 4 comfortably but only 2 persons are included in the current rate.

While you're there, you also have access to their free service to the different stations in Boracay but I guess it's not 24 hours and also free transport to the port after your checkout in case you are leaving Boracay.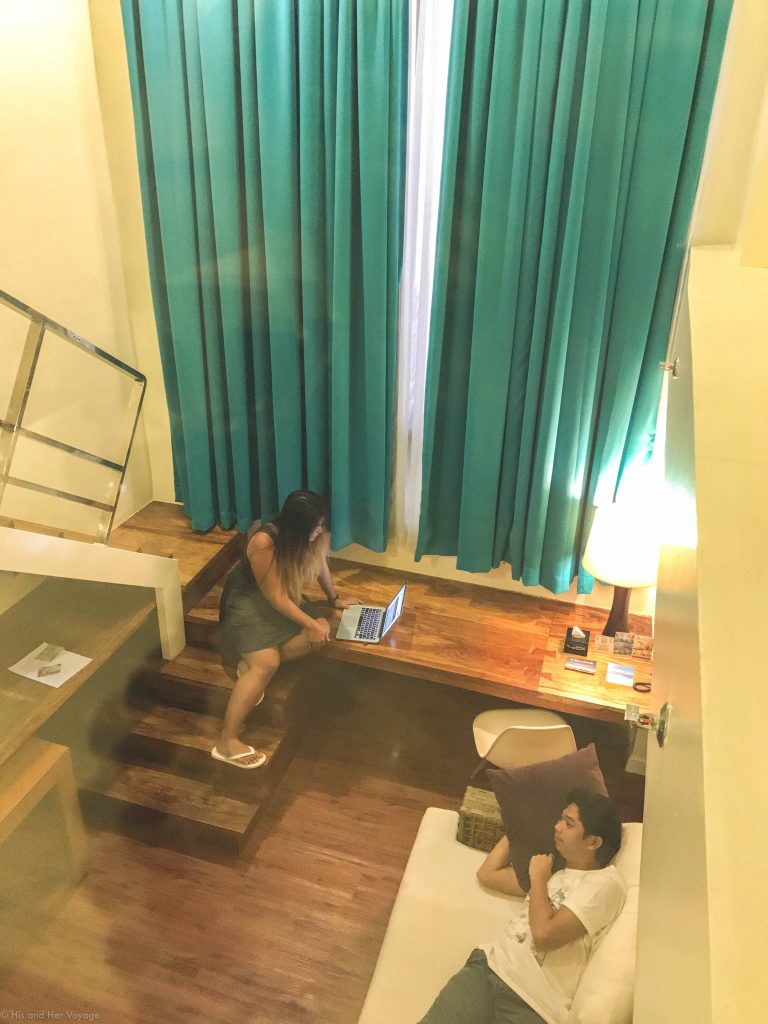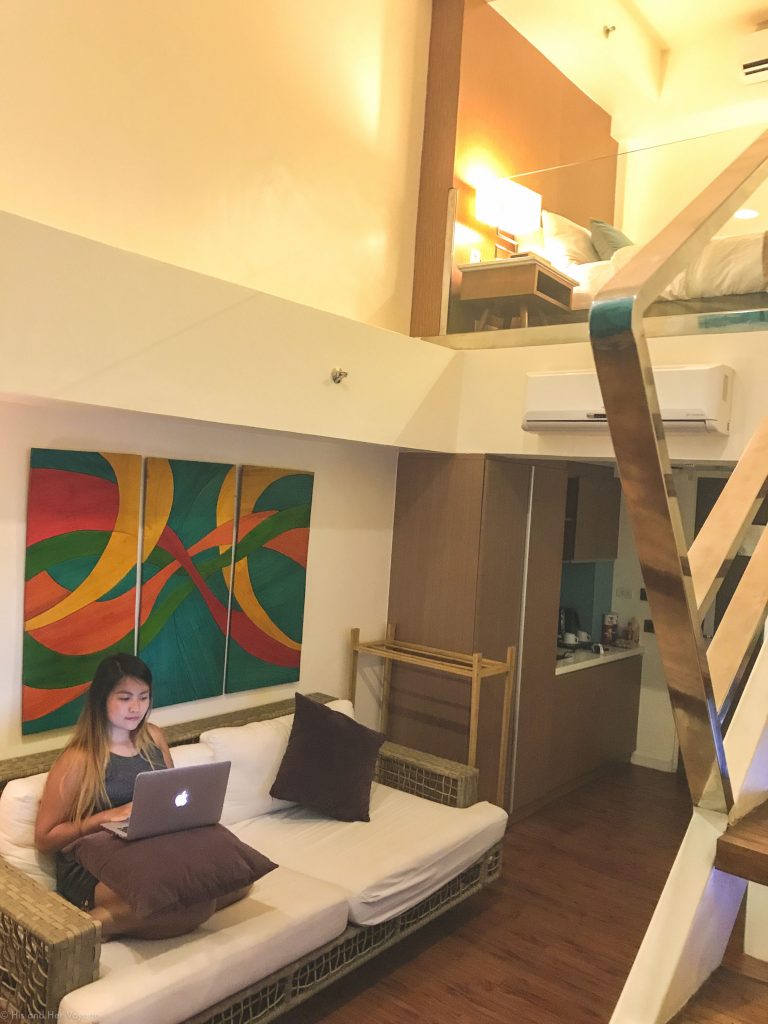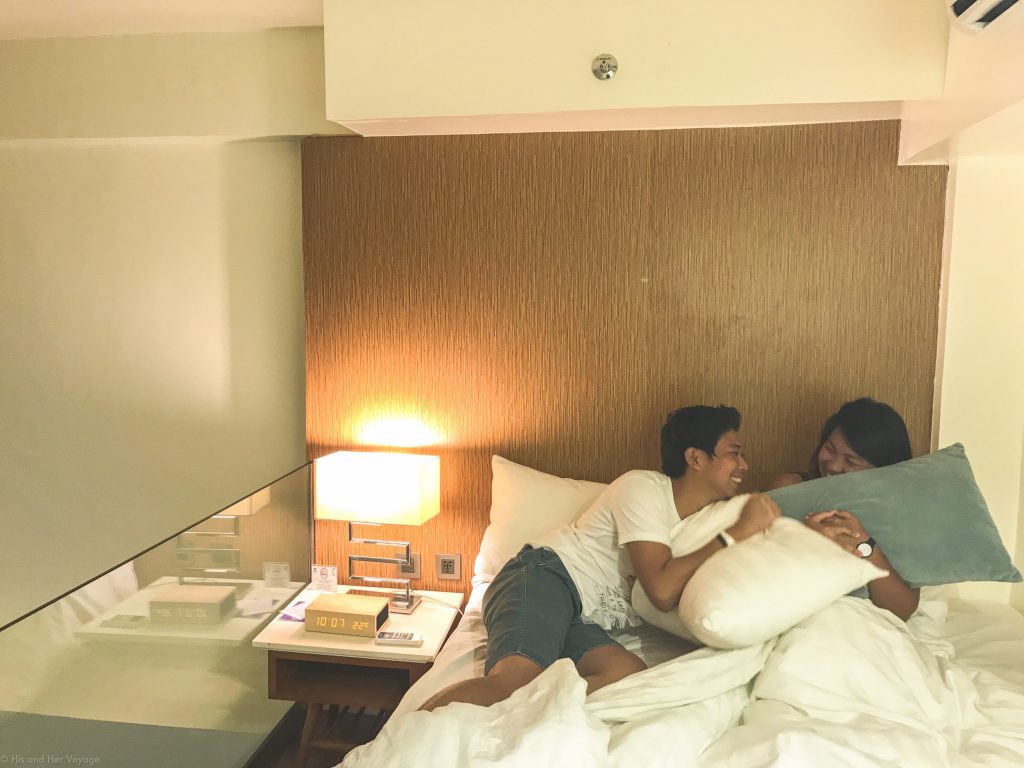 Things we love on Ferra Hotel Boracay? Ferra Hotel Boracay is a 3 Star Hotel 
Ferra Hotel offers a personalized stay experience to make you really feel at home. Even for a short time, I admire the receptionist remembering every guest names. The hotel also has 37 hotel rooms and they will also open their second branch by the end of the year or early next year.
One bedroom loft is a room good for honeymooners. It has a queen bed and a sofa sleeper. It also has an add-on of a toaster, and a microwave oven, enough to reheat food or beverages to keep it tasty and hot. The loft has a kitchenette and a refrigerator with complete bathroom amenities with a hair dryer. It also has the state of the art split air type air conditioner, Bluetooth speaker alarm clock and safety deposit box, enough to keep your chill and safe in your vacation. It also has complimentary flip flops to keep you grooving on a beach day.
What's on One Bedroom Loft?

Queen bed
Room Service
Stairs
Telephone
Wireless Internet
Television
Sofa Bed
Mini Fridge
Lounge Area
Microwave
DVD Player
Desk
Alarm Clock
Hairdryer
Room Safe
Non-Smoking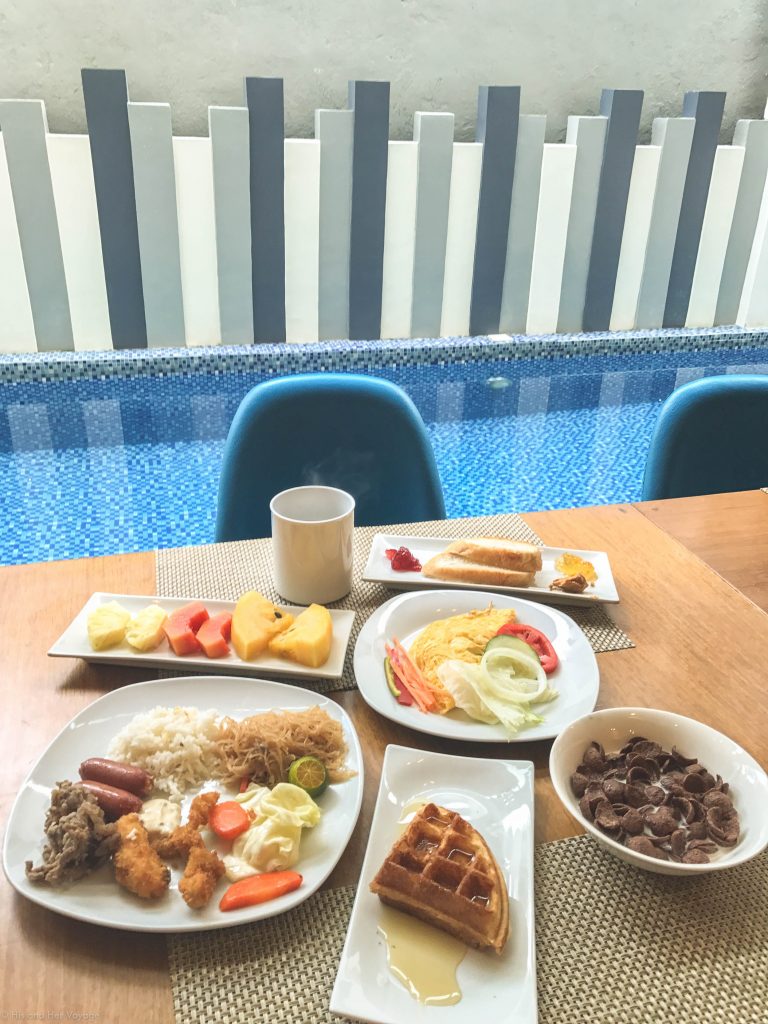 We wake up at 7 am to prepare for buffet breakfast so that we can get the first dibs of the food 😂. 
Bread, Pancake, and other Filipino cuisine are served. They refill the food area fast enough so don't worry if your favorite tapa or bacon runs out. 😂
We were really full after the first batch of the plate.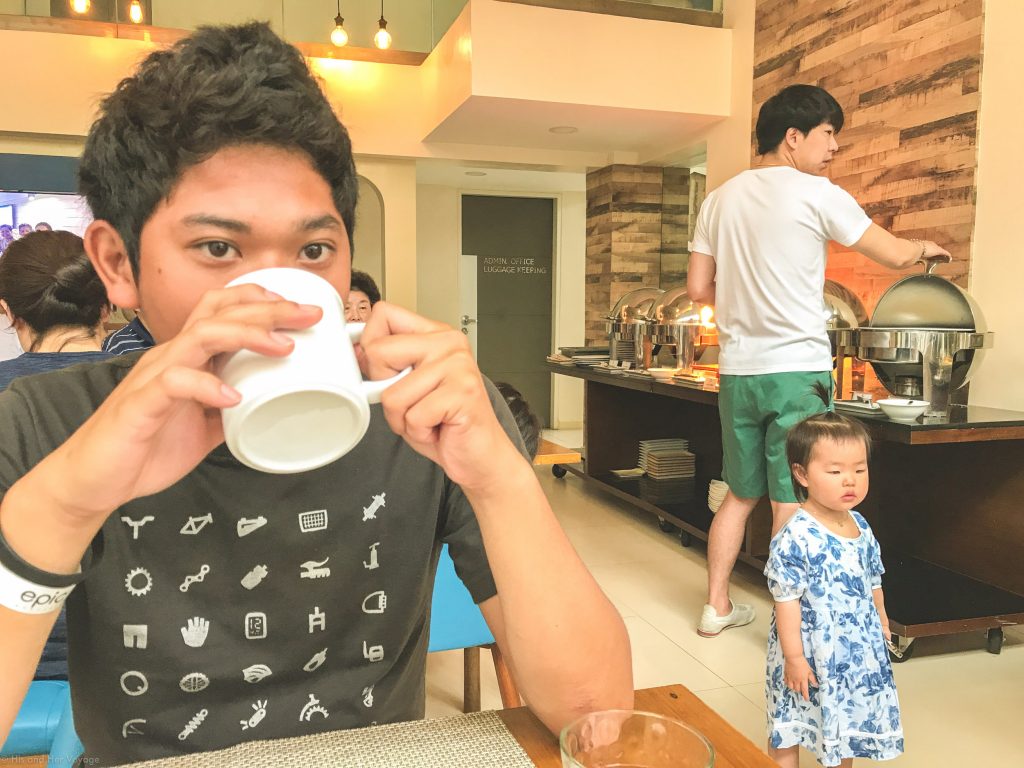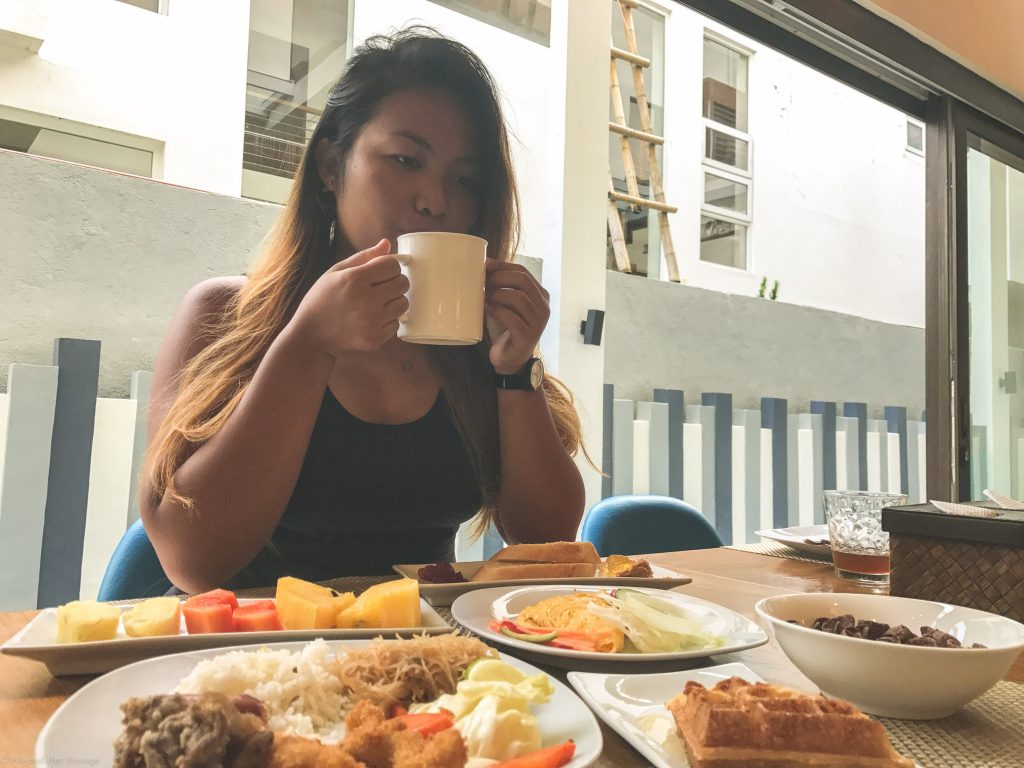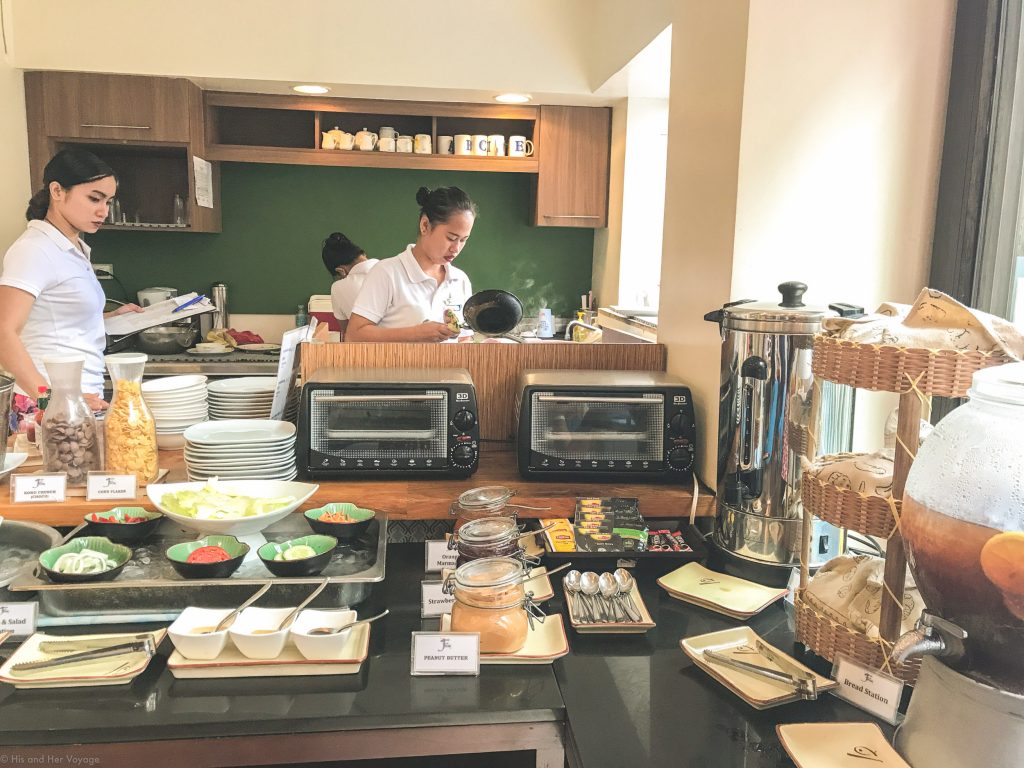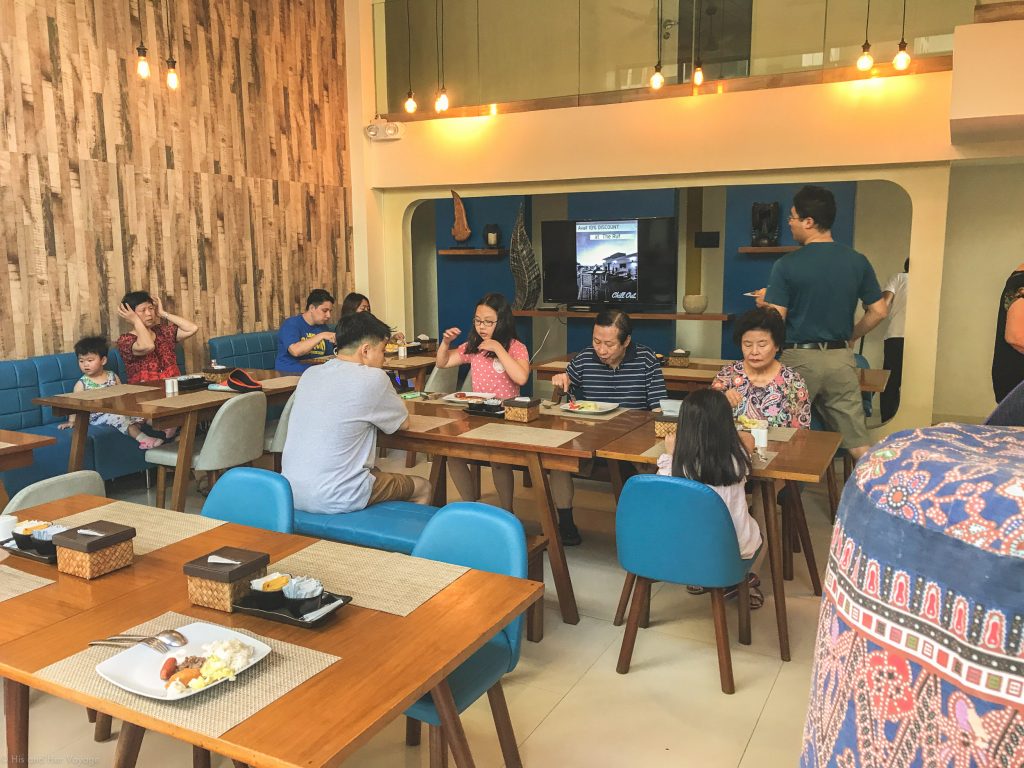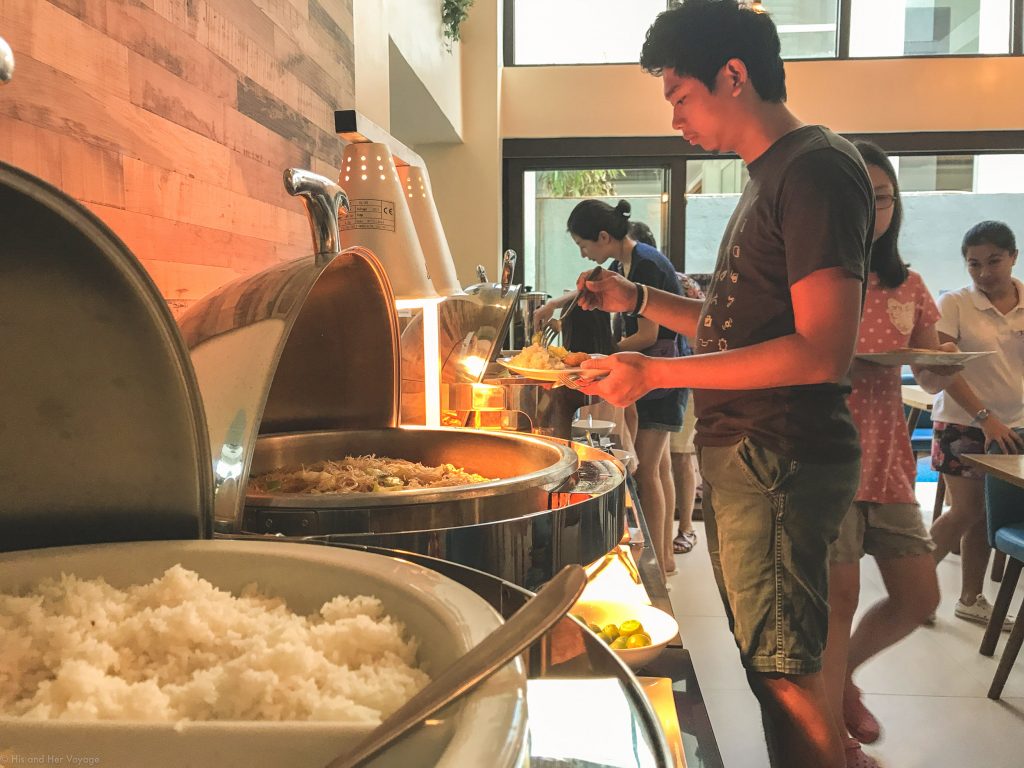 For every hotel room booking it includes Daily Buffet Breakfast, Two Complimentary Welcome drinks, Internet access in rooms, restaurant & lobby/reception area.

They've also got a Rooftop RestoBar which they called "Ruf Resto Bar".  Read More about The Ruf Here.

SERVICE
Hands down guys! The jolly and attentiveness of the staff make it feel you are well being taken cared of. No staff meddling in your business so if you want to take that wall shot do it. They might happily be assisted you if you asked them. They indeed the friendliest host in Boracay no BS. Book a room now to experience the FERRA Service 😋
AMENITIES
Pool: They have a pool but we didn't have a chance to dip into it coz we are enjoying our room so much.
Service Elevator: Ah yes an elevator in the island!
Roof Deck: Where their restaurant is also situated.
Ferra Hotel Facilities and Services

Fully Air – conditioned Rooms
WIFI Connection
Specialty Restaurant
Roof Deck Bar
Tours and Transfer Service
Room Service
Guest Elevator
Laundry Service
Hot & Cold Shower
Room Type
LOW SEASON
June 16 to Oct 15
HIGH SEASON
Oct 16 to June 15
Except for Peak Season
PEAK SEASON
(Special Holidays & Events)
Standard Room
Php 4,200
Php 5,200
Php 6,200
Superior Room
Php 4,700
Php 5,700
Php 6,700
Suite Room
Php 6,500
Php 7,500
Php 8,500
One Bedroom Loft
Php 6,500
Php 7,500
Php 8,500
Two Bedroom Loft
Php 8,500
Php 9,500
Php 11,500
Extra Person – Php 1,500
*Peak Season periods applies to Christmas& New Year – Dec. 15 – Jan 16; Chinese New Year – Feb 18  to 28; Labor Day Weekend – April 30 to May 4; Holy Week – March 27 to April 5
*Price might varies without prior notice. Above rates are inclusive of Government Taxes
Ferra Hotel Boracay
Sitio Bulabog, Boracay Island, Aklan, 5608, Philippines
Mobile/Telephone:
+63 36 288 1177
+63 9176809140
+639255793323
Email: [email protected]
Facebook: Ferra Hotel Boracay
Disclosure: Ferra Hotel Boracay sponsored our last night in Boracay. Thank you so much, Ms. Tiffany and company for the warmest welcome.