You probably heard where El Nido is, This place is on everyone's bucket-list. El Nido is municipality of Palawan located in Southwestern Philippines. Famous for it's crystal clear water and pristine beaches. This is not our first time in El Nido, Way Back in 2015 we had our very first plane ride to Puerto princesa and traveled almost 4 hours at night to El Nido (By that time we did splurged and spend way beyond our budget. But This time we are backpacking with friends. If Possible to stick to the budget of less than Php6k but still not depriving ourselves with foods.
Things to do in El Nido, Palawan
There are 5 Tours you can do in El Nido ( Tour A, B, C & D) and Land Tour to Nacpan Beach and Calitang Beach (Twin Beach) and the falls along the way.
Don't forget to try the Kayak to roam around Small Lagoon (Php 300 per kayak)
Try to catch the sunset in Las Cabanas/ Maremegmeg Beach or take a zipline between two islands for Php500!
If you are up for adrenaline, climb the Taraw cliff for the best view of the sunrise or sunset (Guide cost around Php400 to Php500) Depends how you plead
Wow! that's a lot of tour right? Let me help you choose.
Recommended Tour for First timer's 4D3N (Tour A and Tour C)
If 5 Days You can take a land trip to Nacpan Beach.
Take Combo Tours for Php15000 via LeatherBack Travel and Cruise (6 to 8 destinations)
Or don't want a cruise type boat? you can still search for good deals some offer Php700 to Php900 per tour. Go to this group to search for 'elnido' – DIY TRAVEL PHILIPPINES
NOTE: You have to transact at your own risk. Check and research if the person is giving a legit offer.
Ok so how much will you spend in Joining group tours?
Mandatory: 200 Pesos/person Eco-Tourism Development Fee (ETDF). This is good for up to 10 days of your stay here in El Nido.

Group tours usually start at 9am to 4pm.
Tour A – Big Lagoon, Small Lagoon, Simizu Island, Secret Lagoon and 7 Commandos Beach
Inclusions: minibuffet lunch, entrance fees, life vest, tour guides, shelters and drinking water.
Php 1200
Tour C – Destinations: Hidden Beach, Helicopter Island, Secret Beach, Matinloc Shrine and Star Beach
Inclusions: mini buffet lunch, entrance fees, snacks, life vest, tour guides, shelters and drinking water.
Php 1400
Land Tour-Destinations: Nacpan Beach and Calitang Beach Sidetrip to Nagkalit-Kalit Falls, Bulalacao Falls. It will cost around 1k to 1.5k by renting a tricycle. Good for 3 to 4 persons.
Php 1000 to Php1500 
Tour B – Destinations: Entalula Island, Pinagbuyutan Island, Snake Island, Cudugnon Cave and Cathedral Cave
Inclusions: minibuffet lunch, entrance fees, life vest, tour guides, shelters and drinking water.
Php 1300
Tour D – Destinations: Bukal Island, Ipil Beach, Nat-Nat Beach, Cadlao Lagoon and Paradise Beach
Inclusions: minibuffet lunch, entrance fees, snacks, life vest, tour guides, shelters and drinking water.
Php 1200
​
Price and Inclusions based on Northern Hope Tours.

In this recent trip, We availed the service of  Leatherback Travel and Cruise (Featured Photo above). Why? Because of their unique cruise type boat. We were pretty surprised that besides of their boat being an affordable cruise experience the staff serve as way beyond our expectations they even prepared a cake when i say i have friends who will celebrate their birthday's. We got extremely lucky to be the lone guests of that day. (The Rate is joiners rate) You can add a minimal amount to reserve the cruise boat.
FYI:  Rates are standardized  but as you can see you will still be able to find few travel and tour companies that offers discount or promo.
This is Recommended for travellers knows how to drive a motorcycle. The Road for the first 30 to 40 minutes will be paved while the rest of 20 minutes will be rough road so please be careful. Not recommended for newbie drivers.

How to do it? Rent a single motor for Php350 per day. Or Haggle a tricycle good for 3 for Php1K to Php1.5k depending on your agreement.

Extra Precaution: be mindful of Nikniks when staying on Nacpan Beach.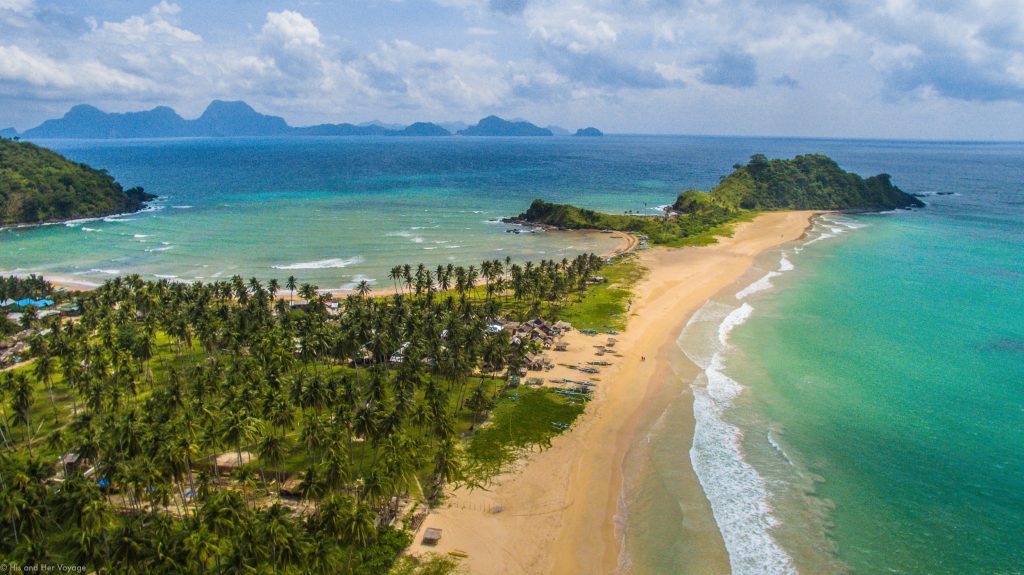 The listed above are the once we've tried. Meals are ranging from Php90 and up
Where to Stay in El Nido?
It really depends on your preference. We all know El Nido is a very pricey place so finding a comfort within a budget midst of competitive price is very rare unless you want to stay in fan rooms.  We stayed in Biolina Guesthouse .

Biolina Guesthouse – A Family owned guesthouse which make it this guesthouse like your own home away from home. Ate Bebe and Family are very comfortable to talk to.

I don't have any complain at that place. Clean rooms, comfy beds, clean sheet, and clean bathroom, and helpful Staff. We have plead for just Php400 per pax on a Family Room with extra bed  (There were 6 of us) Original Price (Php2500 good for 4) We really saved a lot. Thank you very much.

Note: The Booking can be done via Facebook message or contacting via their mobile numbers

For inquiries and reservation please contact them at the following numbers.
+63 907-527-8584 & +63916-217-6130.

Other Backpackers Choices are:
Tay Miloy Inn (Fan Rooms)
OMP Hostel (Shared Rooms)
For backpackers with budget
It is recommended to wear dri-fit shirts. Pack light as much possible 
So you have some knowledge about El Nido now. You have took a plane from Manila (Airswift and Skyjet) which will be a little bit pricey but the cheaper way would be flying to Puerto Princesa and ride a bus or van for 5 to 6 hours depending the pacing of the driver.. *Tip* Van is faster than bus of course.

Up for quite a voyage? You can took 2go from Batangas Pier to Palawan.
Breakdown of Expenses (Php5300 budget for Group of 6)
Estimated Expenses for a Group of 6

🌴 Day 1 – – – – –
Biolina Guesthouse– 800 per pax for 2 nights
Lunch at stop Over Roxas – Php 90
Dinner at Kdiners – Php 129
Maremegmeg Beach – No Entrance Fee
🌴 Day 2 (Combination Tour [A&C]) – – – –
Breakfast at Skyline Restaurant
Started at 9am
Small Lagoon
Big lagoon
Entulala Beach
Snake Island
Pinagbuyatan Island
End
900 van roundtrip
1500 combo tour
200 environmental fee (mandatory)
Dinner at Jarace Grill
🌴 Day 3 (Nacpan Beach) – – – – –
Rent a Motor – 350
Gas – Php150 (No need to full tank coz going to Nacpan
Breakfast at Silog republic (24 hours!) – Php90
Entrance to Nacpan Beach – Php50
Check-in at Natuas Cabin for Php350 each per night with buffet breakfast
🌴 Day 4 – – – – –
Free transfer to the New Airport in Natuas Cabin
Terminal Fee 200