Dumaguete
Siquijor
Manjuyod
Apo Island
Sipalay
Bacolod
Day 1 (From NAIA Terminal 3 Manila to Sibulan Airport Dumaguete)
How to get out Sibulan airport without taking a taxi or whole tricycle (Php 100) to downtown?
Walk outside of the airport until you see the main crossing. Ride a big tricycle (Php 10 per person to downtown) In our case, we drop and check Vintage Inn first (near public market) but their rate is over in our budget so we walk and look around to find harolds mansion.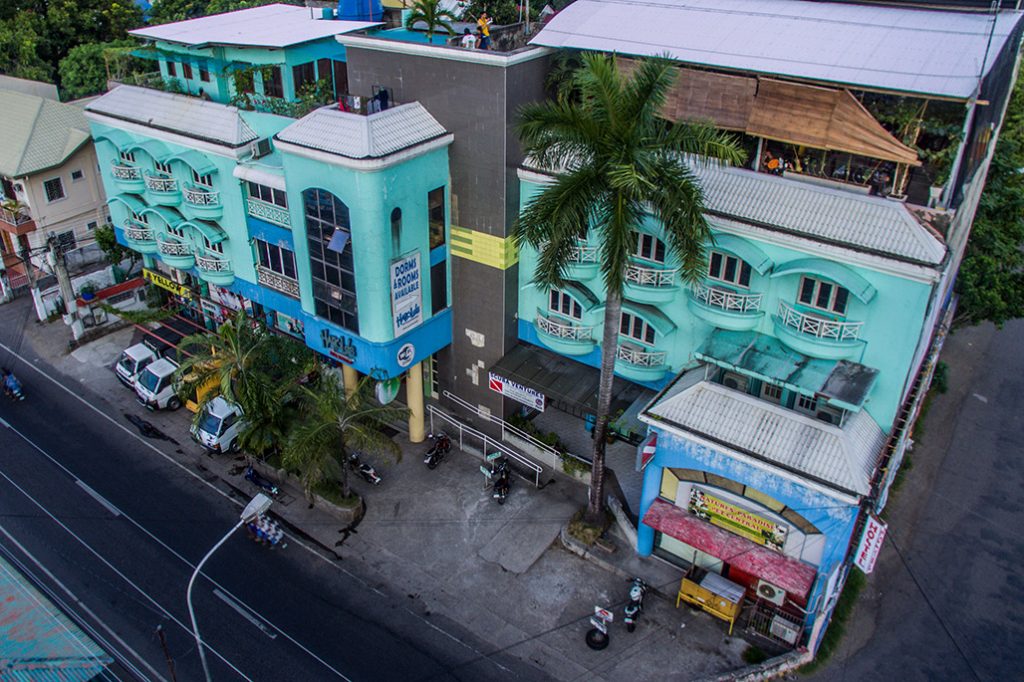 We stayed at Harolds Mansion
(Free Toast + Sticky Rice + Tsokolate + All Day Coffee, Tea and Drinking Water) we stayed in a fan room type for just Php 600 (For Backpackers Only!) Bawal sa maarte 😛 
Harolds Mansion
It's only Php 8 per person going around downtown
*Our friendly tricycle driver tipped us that don't ride the tricycle if they ask you a price* //dumaguete.com/trikes-tricycle-rates-dumaguete/ 
Actitivities
Check-In to Harolds Mansion
Dinner at Scoobys.
Walk from harold's Mansion to Rizal Blvd.
Foodtrip in night market beside the famous sign Rizal blvd.
Expenses for Day 1
Expenses
Cost
Airport to Market
php20 / 2
Accommodation
php600 / 2
Water
php30 / 2
Dinner
php275 / 2
Total
php463 per pax
Day 2 (Day tour in Siquijor)
Follow this link Siquijor

Day 3 (Half a day in Manjuyod)

Harolds Mansion going to Manjuyod
Early in the morning we wake up around 3:30 am. we took a tricycle from Harolds to Ceres Bus Terminal – Php 8 per pax. From the bus terminal, we ride a departing bus going to Bacolod that will stop to Bais city (Php52 each) Travel time is about an hour.
4:40 am we arrived at Bais, Landmark (Julie's bakeshop and Jollibee). (We are supposed to buy breakfast and lunch there but most of the nearby stores were close at that time) So our tricycle driver brought us into a silog/food station and it's open 24 hours. Silog meals costs around Php 40-50 so we bought 2 sets of chickensilog and tocilog for breakfast and lunch.
Then the tricycle driver take us to Canibol Warf (Private boat arrange by Ms. Raquel Abanto 0939 448 1119)
Tricycle service cost us Php300 good for 3 people back and forth. If you haggle maybe you can get a cheaper price as low as Php200 or so.
But this tricycle driver that fetched us (i forgot his name) is connected to Ms. Raquel (So if you want a cheaper ride just give a heads up that you don't want to be fetch and haggle other tricycle drivers that is passing by around bais)
Actitivities
Php 2000 Manjuyod Sand Bar
Php 500 Dolphin Watching
Manjuyod Sand Bar's price was pretty high considering that the sandbar is just 10 to 15 minutes away from the port.
We arrived at the Sandbar (6am low tide)
After spending 30 minutes there, the water is slowly coming up.  (We ate first our breakfast before going to Dolphin watching Area)
We spent 2 and a half hours roving and looking for the dolphins to show up but unfortunately it's a sad day for us. No dolphins showed up on a Saturday morning. According to the boatman the reason is due to the heavy rain yesterday that night so it might scare them away. Maybe if we did it on a weekday we might get lucky to see some wild dolphins.
Our Tricycle driver dropped us at the bus stop paid (Php 53 each) to Dumaguete. Travel Time is about an hour and a half. The Bus driver dropped us at the port where it's actually a walking distance to Harolds mansion. We stayed there for few hours while chilling at the rooftop, drinking free coffee and waiting for the sky to dim then go out and eat dinner.
Dinner time, we found a boodle fight meal at "Captain Ribbers" for Php 330 pesos it's so good super worth it and budget friendly!
Expenses for Day 3
Expenses
Cost
Harolds to Ceres Bus Terminal
php16 / 2
Ceres Bus (Bacolod Bound) to Bais
php104 / 2
Brunch
php200 / 2
Bais Terminal to Canibol Wharf RoundTrip
php200 / 2
Manjuyod + Dolphin Watching more like finding the dolphins *Includes Tip
php2100 / 3
Bais to Dumaguete City
php106 / 2
Dinner (Captain Ribbers)
php426 / 2
Total
php1226 per pax
*Includes Accommodation
Day 4 (Apo Island)
We woke up at 5:30am to prepare early for our early trip to the market so we can try their famous chocolate + bud bud (Sticky rice) similar to suman. We just walk from Harold's mansion to the market. around 15 minutes walk.
Budbud Original (Php 10), Budbud Chocolate (Php 15)
Chocolate (Php 5)
*Also there is a bud bud manga and ube I think?
After taking a breakfast we then proceed to Harolds Mansion took a tricycle this time Php 8 each.
We pay our Apo island tour c/o of Harold's Dive Center
Snorkeling cost us (Php 1200 each)
consist of:
-> Lunch (Pansit and Hard boil Egg), Coffee, Water, Tea, Banana, Bread + Cocojam)
-> 3 dives on different spot.
-> Back and forth transfer from Harolds to Dauin
-> Free use of their equipments such as snorkeling gear, life vest, and fins.
Harold's Diving Centre has a really big Boat that can accommodate 30 – 50 persons I think?
It's very comfortable boat. The Boat has a viewing deck, back deck and CR 🙂
We end our night in Dumaguete by splurging a little bit at Gabby's Bistro and getting the famous Silvanas of Sansrival Bistro
Expenses for Day 4
Expenses
Cost
BudBud + Chocolate
php 44 / 2
Breakfast again (Mcdonalds optional :P)
php 107 + 124 / 2
Mcdo to Harolds
php 16 / 2
Apo island tour
php 2400 / 2
Apo Island Guide Tip
php 100 / 2
Harold to bistro
php 20 / 2
Dinner Gabby Bistro – 545
php 545 / 2
Sansrival Bistro –
php 180 / 2
Total
php 1768 per pax
*Includes Accommodation
Day 5 (Long Journey to Sipalay)
We took our breakfast before checking out at Harolds Mansion.
(Free Coffee, Tea, Sticky Rice + Chocolate, Pandesal + Cocojam)
We took the route BAYAWAN – HINOBAAN – SIPALAY.
We Departed at Ceres terminal (Dumaguete) at 8:30am going to Bayawan. when we arrive at Bayawan the 11am bus have just leave like 5 minutes ago so we just missed it.
So we had to wait an hour for the next bus. ? Good thing there's a Carinderia that serves a lot of serving
for just Php 45 with rice! To Top it off just add Php 5 for a Banana talk about suliiiiiit! ?
Also bought Snacks at the Grocery beside the Carinderia.
Sipalay Travel Tip:
– Leave early to avoid this hassle travel time to sipalay can be done by (6 hours if you leave early)
? Perth Paradise Resort is under a New Management. 
? New Rates: Php1300 Cabana (Fan Room), Php 2400 with breakfast (Aircon Room)
? You can now BRING YOUR OWN FOOD! Yes! (Sadly we are too late to know this). *Previous Management doesn't allow people to bring their own food.
? Day Tour Sight Seeing:  Use of Swimming Pool is additional (Php 100)
? Book ahead  if you are gonna stay on a weekend they are usually fully booked.
? Don't be shocked if the tricycle cost you Php100 per person (One way) Yes it is the regulated fare.
? Highly Recommended Bus Inspector in the Morning/Tricycle Driver in the Afternoon: Kuya Mark 0918 692 0427
Check out at Harolds Mansion 8am
Expenses for Day 5
Expenses
Cost
Harold to Ceres
php 20 / 2
Ceres to bayawan
ETD 830 to 11am arrive at bayawan
Wait for an hour
ETD 12pm
php 210 / 2
Lunch
php 90 / 2
Snacks
php 66.50 / 2
Bayawan to hinobaan
php 162 / 2
Hinobaan to sipalay
php 60 / 2
Dinner at their Restaurant
php 370 / 2
Ceres to perth
php 200 / 2
Check in Perth Paradise Resort
Accommodation –
php 1300 / 2
Total
Php 1239.25 per pax
*Includes Accommodation

Day 6 (Heading to Bacolod)
News flash not so gloomy weather anymore. Took a quick deep early in the morning at the pool.
Then make our way to Bacolod (We travel almost 6 hours from Sipalay to Bacolod) including bus stops.
Check out Perth Paradise Resort 8am Latest

Expenses for Day 6
Expenses
Cost
Perth to ceres terminal (sipalay)
php 200 / 2
Breakfast
php 156 / 2
Snacks
php 40 / 2
Ceres to Bacolod City
php 418 / 2
Lunch
php 113 / 2
Bacolod to Ong bun
FREE (We just took a 10 min walk)
Check in Ong Bun Pension (FREE Drinking Water, Fast Wifi, Old Room)
php 530 / 2
Ong bun to Pepsi
php 14 / 2
Pepsi (Tricycle Terminal) to Ruins
php 100 / 2 *I feel that this is good for 3 to 4
Ruins Entrance Fee
php 190 / 2
Tubo Juice (Snacks)
php 50 / 2
Ruins to terminal
php 100 / 2
Terminal to SM
php 15 / 2
Dinner at Manokan County (Adidas Chicken)
php 232 / 2
Water
php 32 / 2
Total
Php 1095 per pax
Day 7 (Off to Manila)

Check out Ong Bun Pension at 8am
*you can book a transfer via van going to the airport just ask the receptionist at Ong Bun.

Expenses for two.
Van to Bacolod airport. – 300
Breakfast – 145
Terminal fee – 200
*Optional Pasalubong – 320 
Total of Expenses Per Pax:
Total Expenses
Expenses
Cost
Day 1
Php 463
Day 2
Php 723 (or less depending on your haggling skills in renting a motor/food to eat)
Day 3
Php 1126 (or less depending on your haggling skills in renting a boat/food to eat)
Day 4
Php 1768 (or less if you are on a bigger group like 4 or more it's ok to rent a boat way cheaper)
Day 5
Php 1239.25 (or less if you will bring your own food)
Day 6
Php 1095
Day 7
Php 382
TOTAL
Php 6796.25
*Included (Accommodation per day, Meals Everyday, Transportation, Entrance Fees and other fees Etc..)
*Not included (Personal Expenses, Pasalubong, Airfare (Php560 per person) Manila – Dumaguete – Bacolod – Manila)
Foods to Try in Dumaguete