Let us take you to SOCCSKSARGEN
Huh? WHAT?  Soccsksargen is a region located at the south central of Mindanao and it Stands for (South Cotabato(SOC), Cotabato (C), Sultan Kudarat (SK), Sarangani (SAR), GENERAL SANTOS(GEN)). The name of It is composed of four regions and two cities. You may also heard some people calling it SOX in short, it is intended for their marketing promotions and easy to recall.

WAIT, WAS IT SAFE THERE?
You may ask us about this at first but, yes it is completely safe to travel here.
Their LGU has a new campaign called #SOXisNEXT shorter for Soccsksargen is your next travel destination. Furthermore, If you plan to visit the whole region you might also want to explore the hidden gems in Maguindanao #ARMMAzing when backpacking SOX.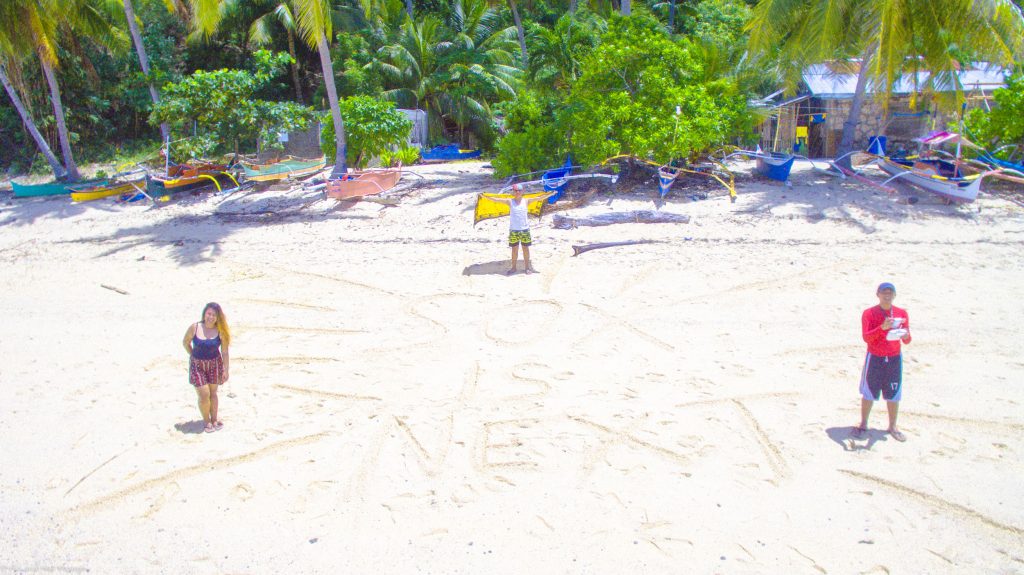 WHAT WE DID? ✈ Entry/Exit Point: General Santos
📍[General Santos – Cotabato – Maguindanao – Sultan Kudarat – (Lake Sebu) South Cotabato – (Glan) Sarangani – General Santos] (So this guide is written in this order)
#TravelTip: *Suggested Itinerary to maximize your stay*
🌸 If your entry point is General Santos then exit point is Cotabato
🔴 General Santos – Sarangani – South Cotabato – Sultan Kudarat – Maguindanao – Cotabato
🌸 If your entry point is Cotabato then exit point is General Santos
🔴 Cotabato – Maguindanao – Sultan Kudarat – South Cotabato – General Santos – Sarangani – General Santos
🌸 If Entry and Exit Point is Cotabato
🔴 Cotabato – General Santos – Sarangani – General Santos – South Cotabato – Sultan Kudarat – Maguindanao – Cotabato
Recommended no. of days for the Ultimate Backpacking (5 Days)
At least spend a day for each Province if you have more time than that, much better.
The cheapest way to get out of the General Santos International Airport would be via a multicab (PHP 50 each or a tricycle (PHP 20) you will just have to wait until it gets full. Travel time is about 30 minutes.
WHERE TO STAY IN GENERAL SANTOS?
Pearl Suites near Luxor One
(PHP 500 overnight / 390 washup)
Residencia Heneral (It's the Discounted Rate) not sure if it will stay the same.

Air-con Rooms

Family Room Good for 5 persons (PHP 900)

Deluxe Room Good for 3 Persons (PHP 750)

Suite Room Good for 2 persons (PHP 700)

Standard Room Good for 2 persons (PHP 650)

Single Room Good for 2 persons (Php500)

Non Air-con Rooms

Standard Fan Room Good for 2 – (PHP 350)
Place is old but enough for just a quick stay.
Luxor One Traveler's Inn (Recommended)
Single Standard Room.
Good for 1 guest (PHP 390 for 6 hours) or PHP 590 per night add PHP100 for Hot and Cold Shower.
Double Deluxe Room.
Good for 2 guests (PHP 390 for 6 hours) or PHP 690 per night add PHP100 for Hot and Cold Shower.
Family Room.
Good for 3 guests PHP 890 per night add PHP100 for Hot and Cold Shower

The place is New and Clean. Place is one multicab away from SM General Santos.
#TravelTip It really get's hot in GENSAN on the night time so it is recommended to choose the air-con rooms if you have enough budget.
WHAT TO SEE IN GENERAL SANTOS?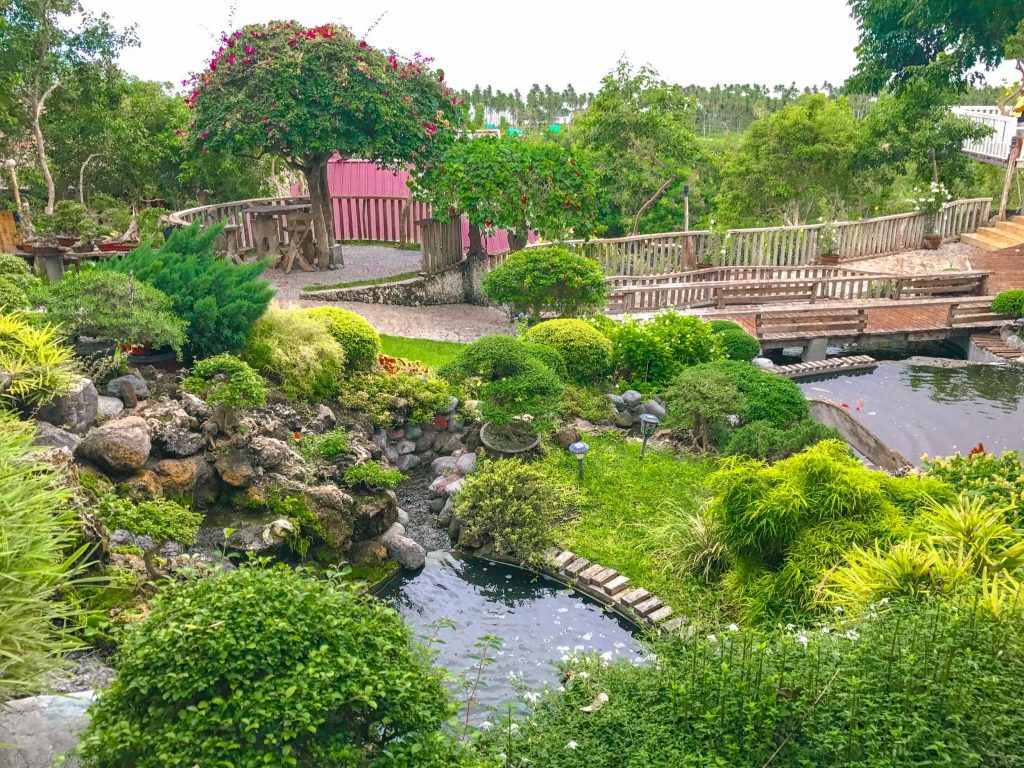 If you got a lot of time and feeling adventurous for a trek visit Sanchez Peak! (But this will cover for a whole day)
HOW TO TOUR GENERAL SANTOS?
Getting around the city will cost you PHP 8 to PHP10 pesos each.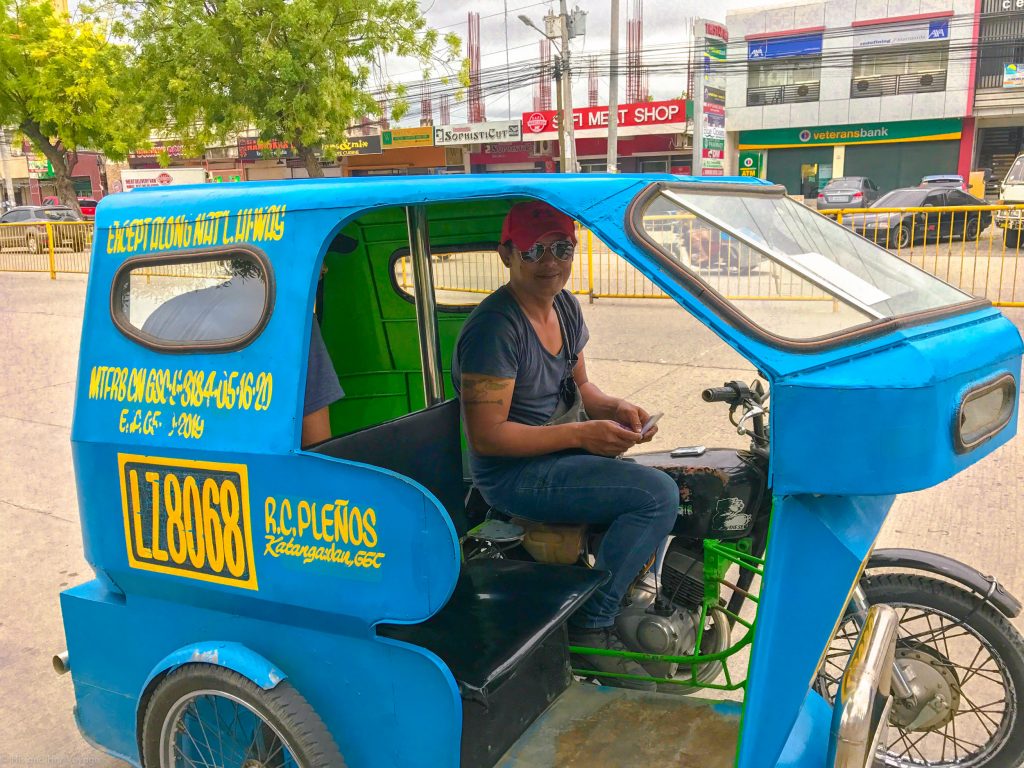 We recommend Kuya Tata 09467115979 we got him for our tour for Php 300. It was a short afternoon tour in the city. First, we go to Mt. Sabrina Panoramic View & Resort then Saranggani Highland then PacMan Wildcard Gym and to Tiongson Arcade. Tour Price depends on your negotiation with kuya) or you can simply DIY it, wait for the multicab to pass by and ask the locals for directions. 
We just ended the day at SM General Santos for Dinner (eventhough we really wanted to try Tiongson Arcade which is just a few minutes away) So maybe next time.
EN ROUTE TO COTABATO (Farthest First!)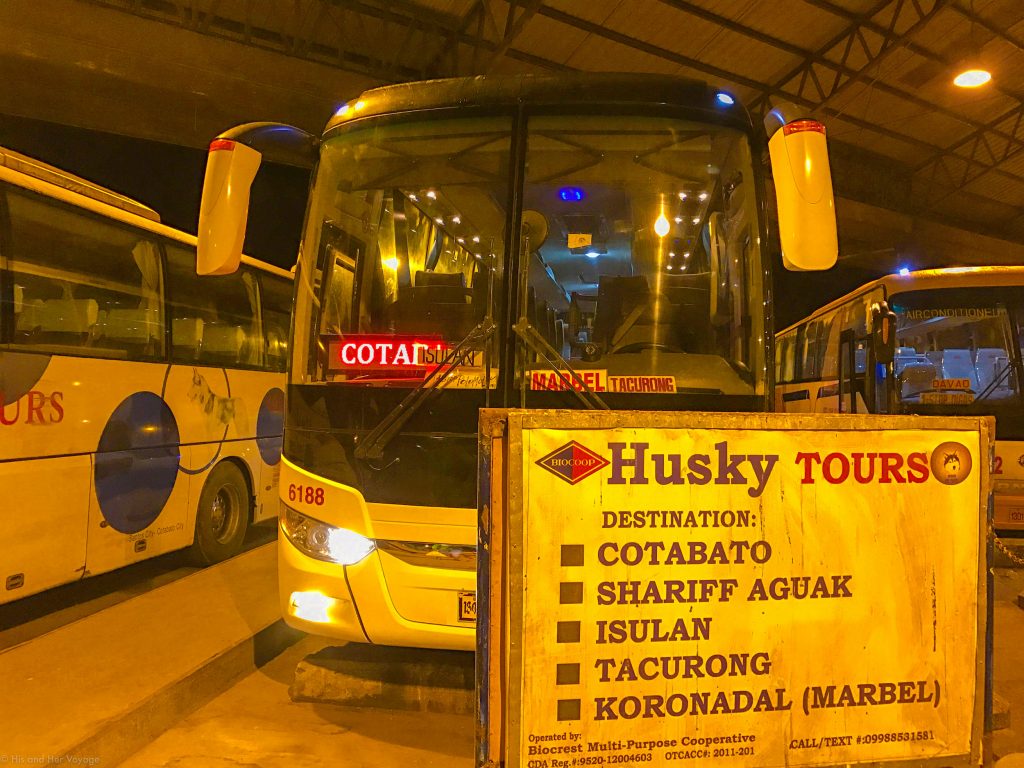 We checked out early morning to catch the first trip of Husky Bus bound to Cotabato in Bulaong Terminal. From Residencia Heneral (the place where we stayed) to Bus Terminal costs Php 10 each.
I'm not sure if this Bus Company is strict on time but we departed at 4am even if the bus in not yet full in capacity.
#TravelTip Bus bound to Cotabato from Bulaong Terminal first trip is 4am and last trip is 2pm.
From General Santos to Cotabato Husky Bus Terminal (PHP 300 each)
WHERE TO STAY IN COTABATO?
Okay so after traveling for about 3 and half hours we arrived at Husky Bus Terminal.
Or you can just drop off to Precious Bonita Inn (Where we stayed) We got ours for Php600 Air-con room good for 2 pax. They were fully booked on that day so 1 of us just slept on the floor.
We just drop off our bags and head our way to tour Cotabato.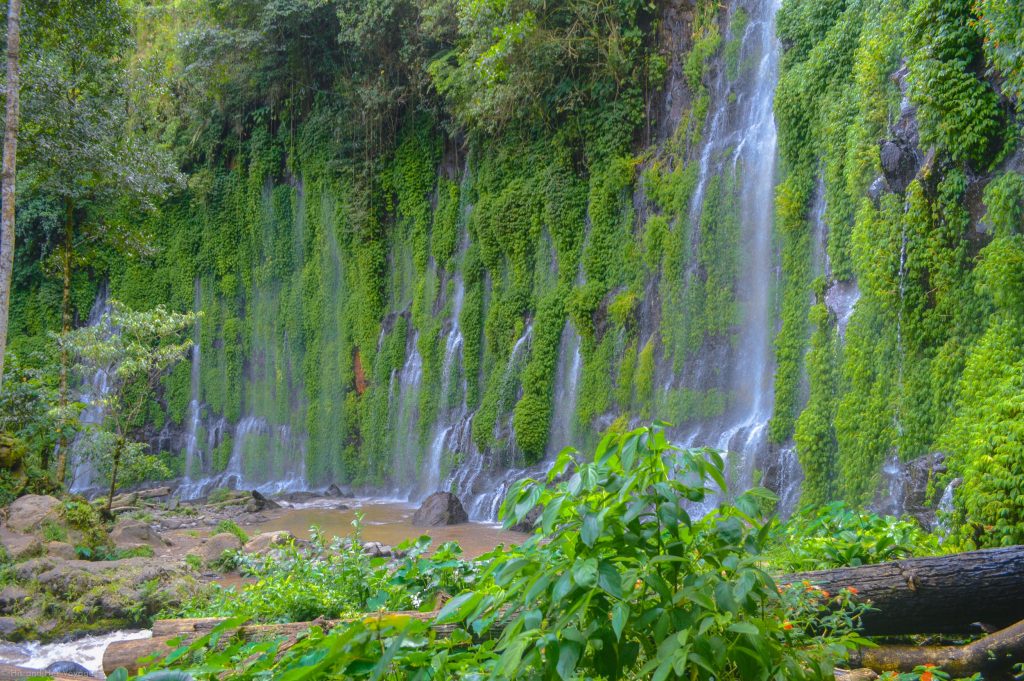 FIRST STOP: Asik Asik Falls
From Precious Bonita Inn to Mindanao Star Bus Terminal via Jeep/Multicab (Route: Going to "Super") Fare is PHP 8. Drop off to Mindanao Star Bus Terminal.
In the Terminal Ride a Bus going to Libungan Terminal. Fare is PHP 50 (Travel time 45 minutes)
From Libungan Terminal to Alamada Poblacion (You have option to ride a Double Tire Jeep (If you can catch it) *This jeep tends to get full fast* or hire a Payong Payong ( Motorcycle with Sidecar fits to 3 persons) for PHP 100 to 200 per person. (Travel Time 1 hour)
From Alamada Poblacion hire a Habal habal for PHP 500 roundtrip.
Entrance Fee: PHP 30 each. PHP 5 Parking Fee for Motorcycle.
No need for Tour Guide because the trail is really visible.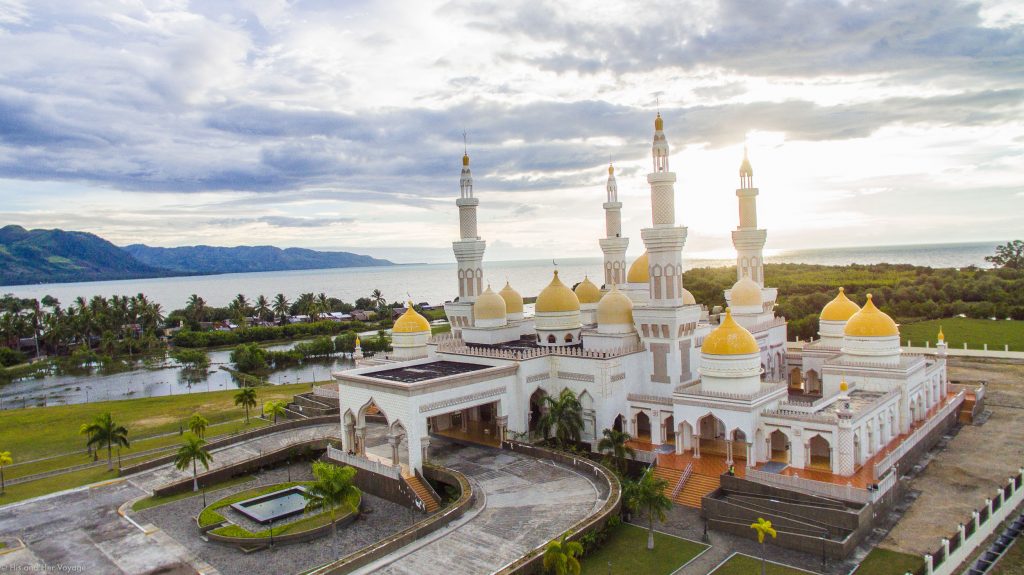 SECOND STOP: Majestik Grand Mosque (Sultan Haji Hassanal Bolkiah Masjid)
From Alamada Poblacion, Same instruction when the Habal Habal driver drop you off. Ride a Payong Payong again or Double Tier Jeep (whichever is available). You can add the amount of your previous expense to your current Habal Habal drivers so you can get back to Libungan terminal faster. (But be mindful that they don't have passengers on they're way back so additional money is highly appreciated). From Libungan Terminal to Cotabato City (Ride a Van or Bus)
Once in Cotabato You can ride a Jeep with a signage written to "Awang" then ask to drop you off at Kalanganan Crossing – PHP 13 each.
Ride a Habal habal to grand mosque – PHP 35  each per way.
Travel Tips
You pay your Habal Habal  right away don't make them wait for you because if you do, you will be surprised that they will charge you for PHP 200 each motor. It's a super RIP-OFF (Our bad because we allow them to wait for us even there's a lot of habal habal outside the Grand Mosque)
– Rent a Costume for Php60
– You have to cover your head with a scarf or malong. Please respect the place
– Sunset will give you the best view (Brunei feels?!!!)
THIRD STOP: People Palace
When back at the National Highway ride a jeep with a signage "Town" or  "Super" If you still have time you can drop by to People Palace on your way back. You will see this place with a  big letters "COTABATO" most people use to take selfies. 
WHERE TO EAT IN COTABATO?
There's a lot of Carinderia, Turo Turo and Fastfood along the highway. Starts at Php30 and up.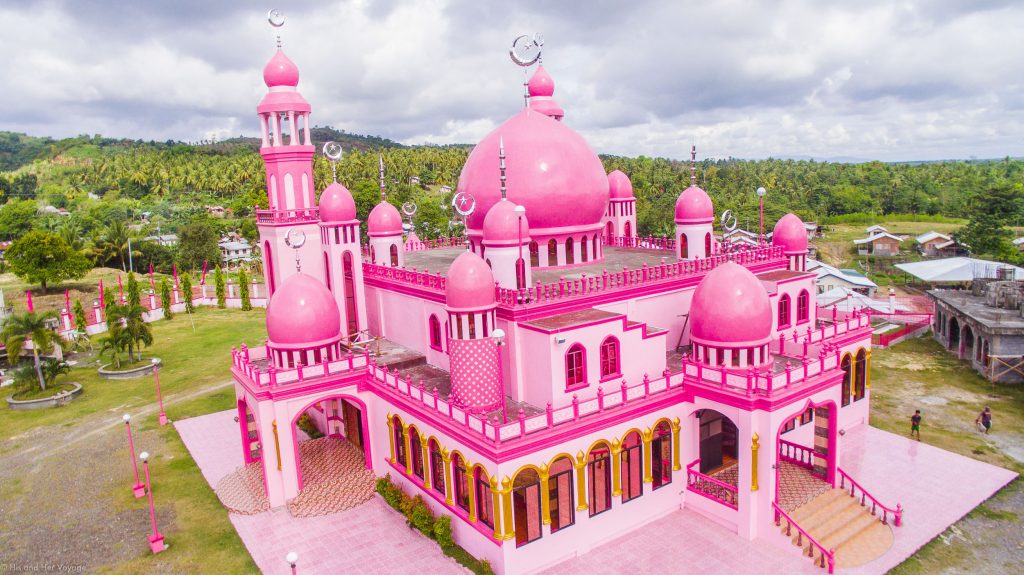 What you can do is ride a Husky Bus that goes back to General Santos and Ask the conductor to drop you off  in the front of Municipal Hall of Datu Saudi Ampatuan town. 
WHAT TO SEE IN MAGUINDANAO?
Travel Tip: When you are planning to go to Maguindanao to visit the Blue Lagoon make sure it's not raining the day before you go, because the soil erosion causes the water to turn brown.
By the way All this attraction are FREE! Yes it is FREE
WHERE TO EAT IN MAGUINDANAO?
Try Penpen Restaurant Pansit ni Penpen) and don't forget their magindanaoan authentic delicacies.
STOP BY AT SULTAN KUDARAT TERMINAL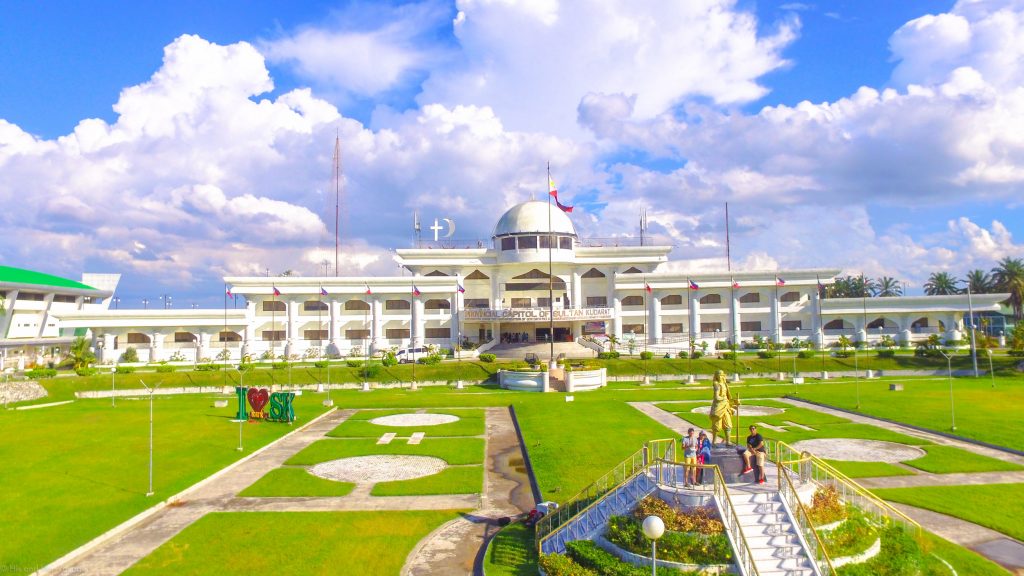 You have to wait for Husky Bus to passby. Once onboard tell the driver to drop you off to Isulan. (Travel Time is about 1 hour) PHP130 From Isulan Terminal you can walk to the Grand Sultan Kudarat Provincial Capitol.
ON THE WAY TO LAKE SEBU, SOUTH COTABATO
After Few Photo Ops in the Capitol, We ride a tricycle for PHP15 to Yellow Bus Terminal Bound to Surallah.
Yellow Bus Ordinary Bus to Isulan to Surallah would cost PHP46 (Travel Time 45 minutes)
Last Trip to Lake Sebu from Surallah is 5pm. It was already 5:30pm luckily we reached the last trip of jeepney waiting to get full. Fare to Surallah to Lake Sebu (via Jeepney PHP35) if (via Commuter Van PHP40) for a 20 minutes travel time.
WHERE TO STAY IN LAKE SEBU?
Upon arriving at Lake Sebu Terminal, You can take a Habal Habal to your place of desired accomodation. PHP 10 – 15 each.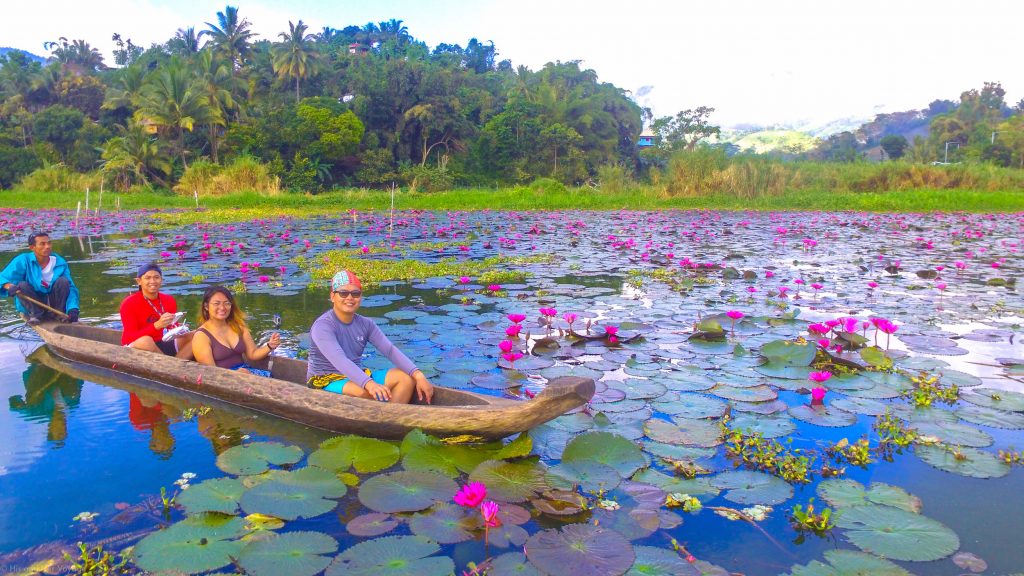 Mountain Lodge Resort
We chose this resort because we want to witness the blooming of the Lotus first thing in the morning. The rooms are cheap too. We also haggled our room when we stayed there. We got ours for PHP750 good for 4 persons. The room has 2 Double Deck Bed (It's a fan room, and the rooms are made of wood so we thought that its no need for AC accomodation)
Travel Tip: Ask your Habal Habal driver for the Tourism Lodge (Php100 – PHP150) Per pax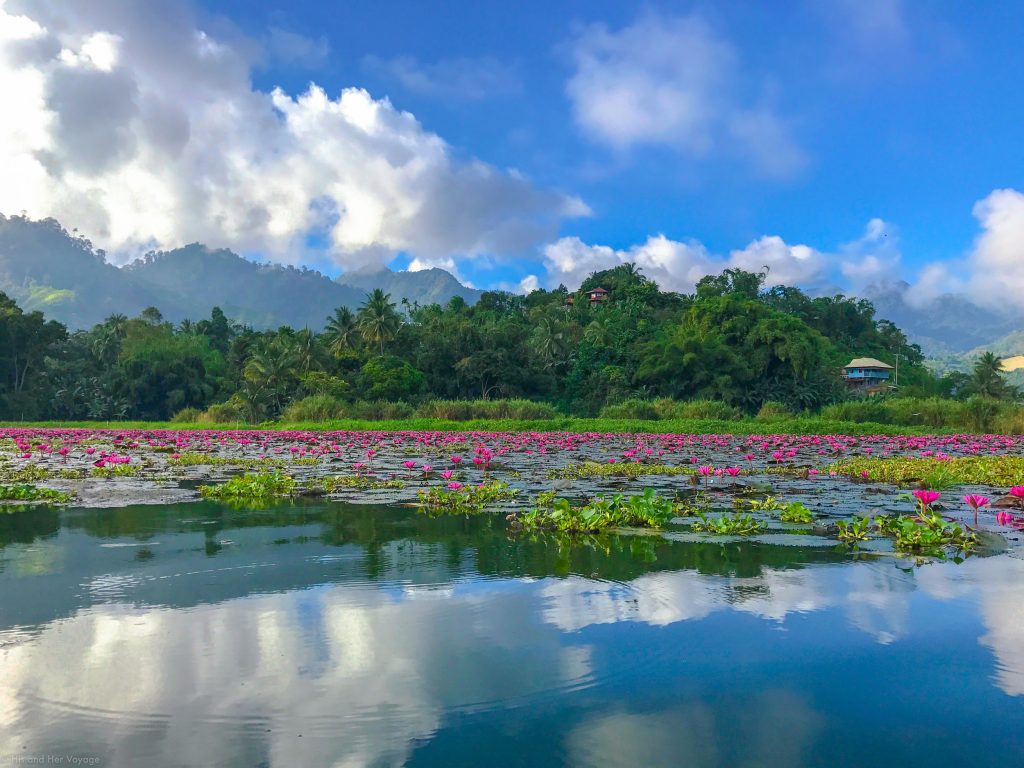 Travel Tip: Ask your Habal Habal Drivers for the Tourism Lodge (Php100 – PHP150) Per pax
Habal Habal Rental for a Whole Day is PHP600 pesos fits 2 persons. Contact: Kuya Jun Jun (0935 4360645).
Make sure to plan properly your trip if you are leaving for General Santos from Lake Sebu.
Last trip of lake sebu to gensan is at 2pm. and Last trip of lake sebu to surellha is at 4:30pm
Mountain Lodge Resort (Lotus Viewing) – Php100 each for round trip at the lake, best time to watch is before 10am so the lotus are open wide. They have a steel tower there to see the place at the top and at night you may ask them for firefly watching.
Water Bike at Sunrise Garden Lake Resort (PHP50 for 30 minutes)
Lake Sebu Water Tubing (PHP300 each)  – It's so much fun you shouldn't missed  this. Prepare your butt and beware of rocks and just enjoy the view. 
Punta Isla Lake Resort – For Floating Cottage or Lunch if you have an extra budget. But for us we just chose to go to carinderia. It's cheaper and tastier right on the budget.
Travel Tip: Last Trip to Glan from General Santos (8pm to 9pm). Prepare for the Non-Aircon Commuter Van. Insider Tip: There's a baby bus plying to Glan once a day at 11am.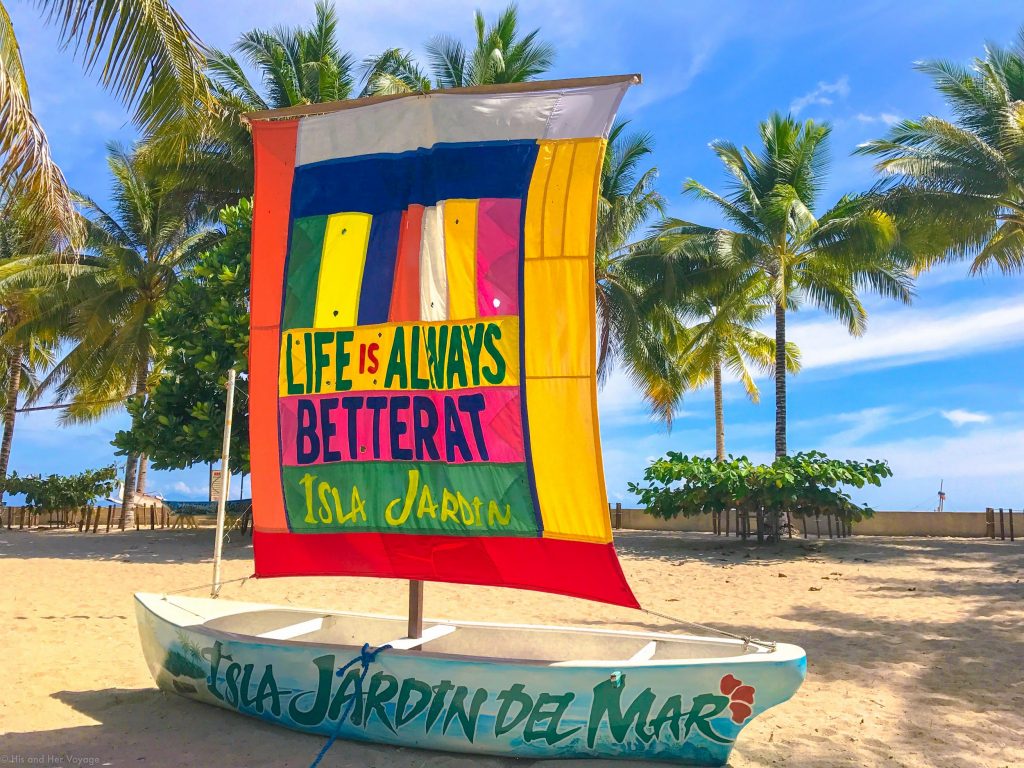 Once you're in General Santos take a van at KCC MALL terminal  (bound to Glan) Php100
TIP: There's a Baby Bus everyday 11am. (1 trip everyday)
Brod Loui Resort
We arrived at Glan late, with no definite plan on where to stay so we ate tasty batchoy first at the terminal while searching possible resorts to stay. Then we've found and travelled to Brod Loui Resort.
Hacienda Don Juan
Vintage inspired beach resort ⛱
Drop off in front of the gates.
⛔ No Walk-Ins Allowed
Try their unique accommodation Cocoon
🌺 Cocoon 1 Php 1,500 (Good for 2)
🌺 Cocoon 2 Php 2,500 (Good for 2-3)
🌺 Cocoon 3 (tarantula) is now open , good for 4 persons , in Cocoon Village – Php3,500
For Reservation PM their facebook page : Hacienda Don Juan
https://www.facebook.com/haciendadonjuanlago/
You can actually ride a Habal Habal or tricycle. Para mag beach hopping. (Short Habal cost Php10 per way)
Gumasa Beach 
Sapu Beach 
lago Beach
malapatan beach.
Sellona Beach
Taban Beach
Davac Ridge Entrance Fee – Php100
Breakdown of Expenses (each)
Day 1
7:30am arrival
Cheapest way to get out of the airport would be multicab (php 50 or a tricy (php 20) you will have to wait to get it full ETD: 745am
Can drop off to Pioneer SM KCC Mall
9am checkin at Recidencia Plaza
— Powernap for 5 hours —
Lunch at Carinderia – Php 60
Look for a driver or negotiate with a driver
We got ours for Php 300
Saranggani Highland day tour entrance consumable – Php 100
Dinner at Jollibee General Santos- 55
Tricycle to Recidencia plaza 30/3
Day 2
ETD 3:30am to Bulaong terminal – (30/3)
ETD 4am to Cotabato via husky bus
There bus is really comfortable first trip to cotabato is at 4am last trip would be until 2pm. (300)
ETA: 7:30am
ETA precious bonita inn (Php600/3)
Bonita inn to mindanao (Php24/3)
ETA 8 15 mindanao star bus terminal (ride a davao bus) and drop of to libungan terminal
ETD libungan terminal 8:30am (150/3)
ETA alamada poblacion 9:30 am (200/3)
Repeat steps going Back
Lastrip to lake sebu is (3pm)
(Getting around Cotabato is  about Php8)
Day 3
Husky to gensan in Cotabato to Isulan (1 hour) Php 130
Sultan kudarat capitol
Capito to Isulan bound to surallah (Php 15)
Isulan to surallah  via yellow bus (Php46)
ETD: 4:30pm
ETA: 5:15pm Surallah to Lake Sebu
(Last trip to Lake Sebu from Surallah is 5pm) luckily naabutan namin lasttrip (jeep) instead of Van
ETD: 5:40pm Surallah to Lake Sebu (Php 35 jeep) (Php 40 van)
ETA: 6pm
Mountain Lodge Resort (750/3)
Day 4
Start tour at 6am (Php600) + 40 Tip & Food
–Sunrise Garden Lake Resort
Water Bike (Php50) x3
Libun
Kemdol (Moving Forward)
🛶 at Mountain Lodge Resort (200/3)
== 66.66
–Lake Sebu Extreme water tubing (Php300)
–Tboli Museum entrance fee Php (60/3)
Brunch (70)
To share (215 + 10)/3
== 75
(own expenses 150 scarf + 35 keychain)
–Divine Mercy
— Weaving Center (donation
–first falls (costume rental 150/3)
Zipline – 300
Photo – Php 100 each
End of Tour 2:30pm
Last trip of lake sebu to gensan is at 2pm
Last trip of lake sebu to surellha is at 4:30pm
Lake Sebu to Marbel (Koronadal) – 160/2
ETD 3:45pm Koronadal to Gensan(Non stop) – Php 220/2 via Yellow bus
Gensan (Bulaong Terminal to KCC mall)
Php10x 6 (60/3)
ETD 5pm Kcc mall to Glan (300/3)
(Last trip to glan is 8 to 9pm)
ETA
Glan Terminal to Brod (120/3)
Dinner (190/3)
== 64
Kuya Junjun
(0935 4360645)
Brod Checkin (1100/3)
== 367
90/3
40 my ice cream
35 ice cream
50 kitkat ice cream
Breakfast 135 + 141 /3
==92
Day 4 — Php 2739.66
Day 5
Sellona Beach
Taban Beach
Davac Ridge Entrance Fee – Php100/2
Habal 50/3 (paul)
==17
DOT-Glan
⭐️Isla Jardin Resort
How to get here from Glan terminal?
–> Negotiate driver to Isla Kardin
60 to 100 per head
(Mahin festival for gumasa beach)
(may 21 to may 23)
Sarbay festival (may 25 to 27)
Colony Marker
Buko Halo of Belmar (Best seller)
#TourTownGlan
#Sox
#GlanGourmetGetaway
(Tuna Sashime of Belmar )
Hacienda Don Juan
(300 corkage fee)
Tip : 300
==100
Tricy To Glan (520)
== 174
Lux one Traveller in (990/3)
==330
21 wave
Total — 671
Day 6
Pearl Suites
(500 overnight / 390 washup)
Lux One to SM mall (15 each)
30 but give 45/2
From SM Mall to Airport (fixed)
(350/2 to airport)
Terminal Fee Php 150