WHAT TO SEE IN SIQUIJOR?

?Capilay spring park

?Paliton Beach

?Enchanted balete tree

?San Isidro Labrador Church + Convent

?Cambugahay Falls

?Salagdoong Beach Resort

?Cang isok House
We woke up early in the morning to do a Siquijor day tour.
From Harold's Mansion we walk about 5 to 8 minutes to the port.
There's a 5:45am schedule (GL Shipping Lines) for Php 150 we took this one as we already there.
(There's also cheaper option Montenegro lines Php 130 departing at 7am)
Travel time is around 1 hour.
We rent a motorcycle for Php 300. At first they will offer you Php 350 but we haggle it.
Some backpackers even rent it for just Php 250. (So haggle all you can :P)
We took our breakfast at Tori's backpackers. I highly suggest that you get there egg + ham and rice for only Php 70
For much cheaper option (you can take a carinderia or joel eatery for as low as Php 50)
and we proceed to our itinerary —
[Capilay spring park – Enchanted balete tree – San Isidro Labrador Church + Convent – Cambugahay Falls – Salagdoong Beach – Cang isok House]
*You can side trip to paliton beach if you like (it's the first you can see when you open your google maps offline)
We passed/circled the capilay spring park as we are not really into park's
(and this park is quite small)
We then proceed to (Enchanted Balete Tree with fishes under it)
Old Enchanted Balete Tree (PHP 5 entrance fee each)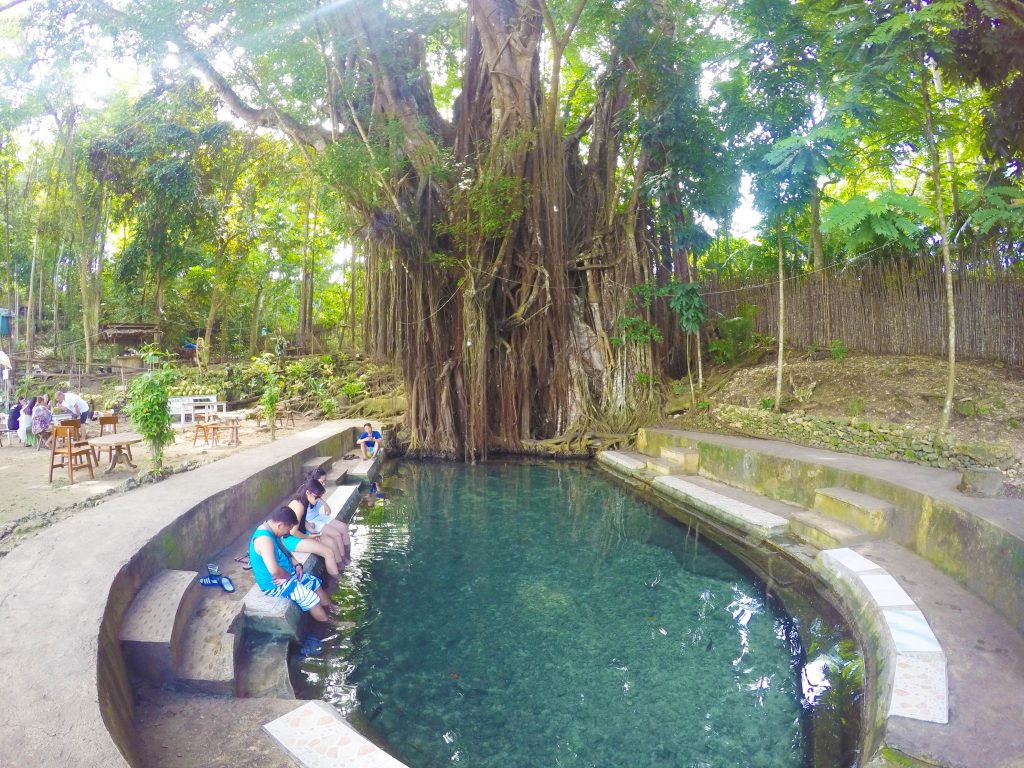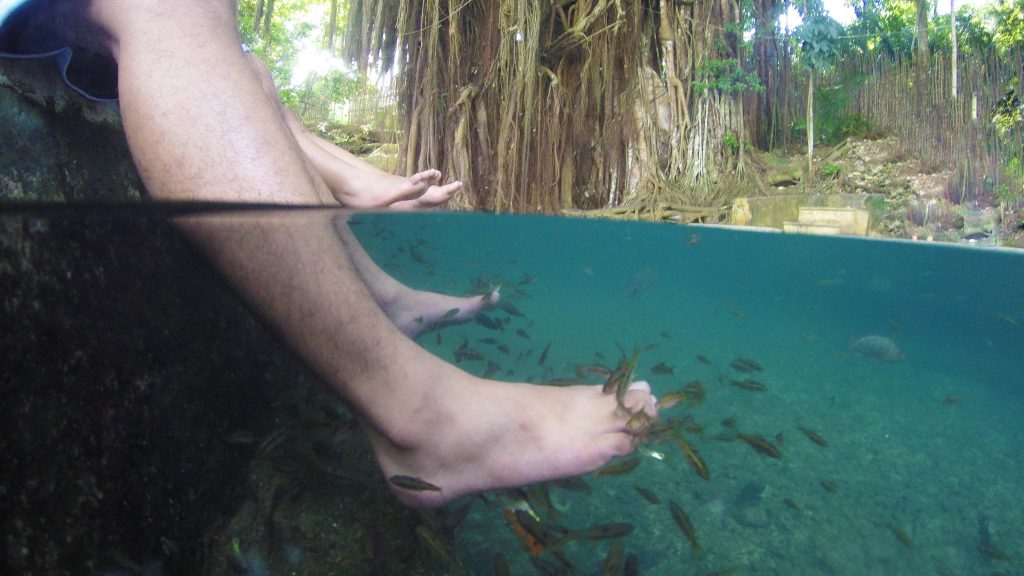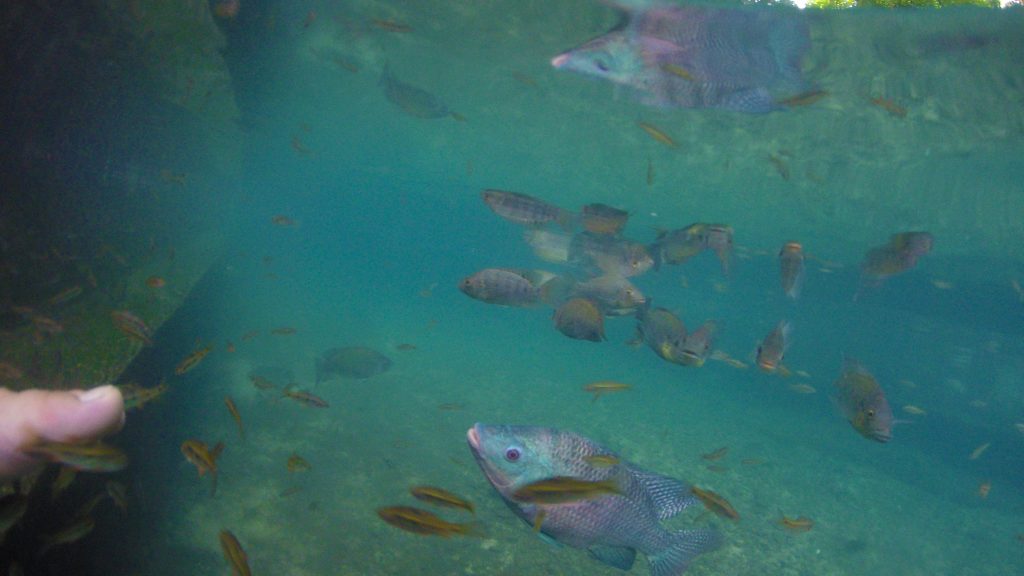 Next stop: Cambugahay Falls — No entrance fee just (PHP 20 Motorcycle parking fee)
And they will provide you with guide (We pay the guide for Php100)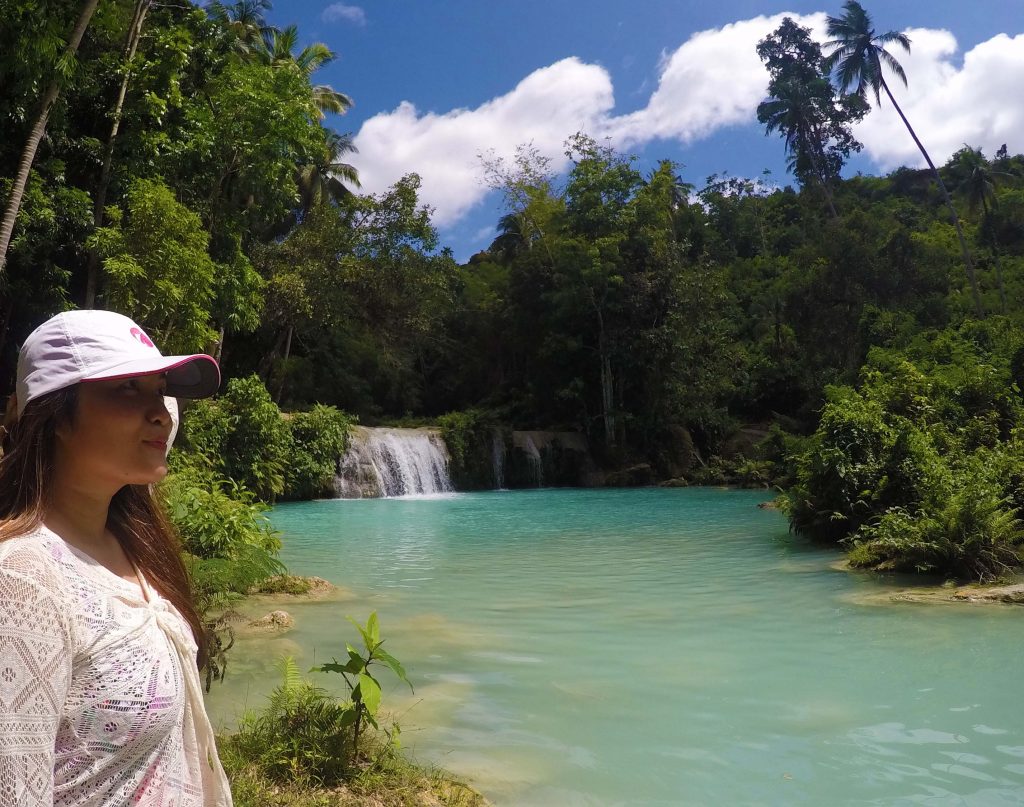 (You can swing here unlimited)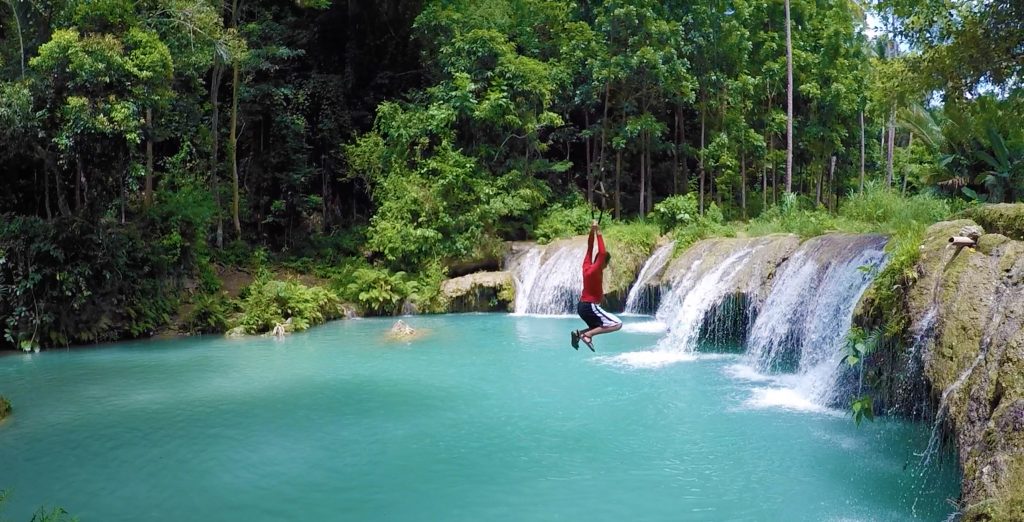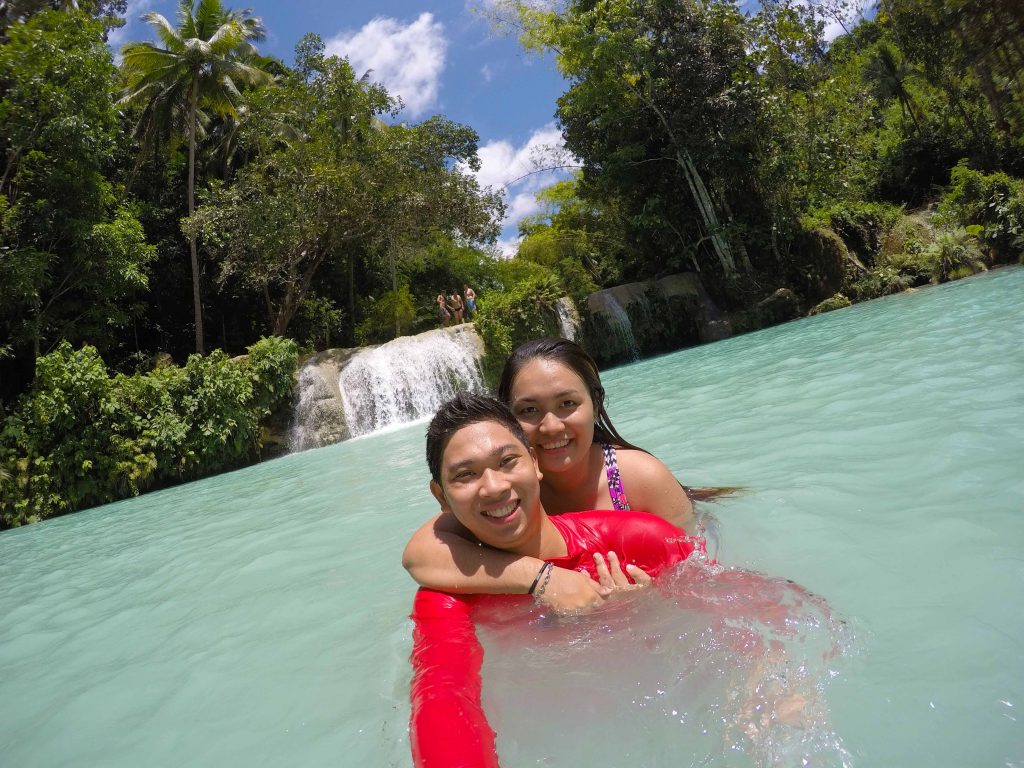 Donation for the operator (No specific amount) but the boyfriend gave them Php 40
Took a quick photo of San Isidro Labrador Church + Convent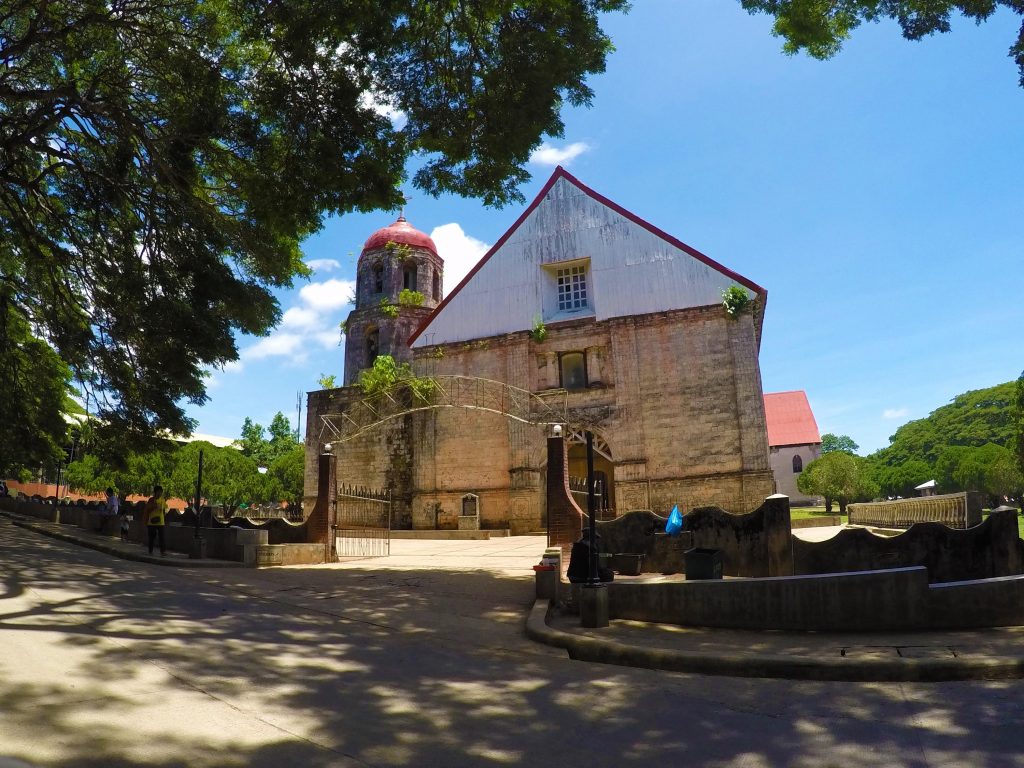 We  make our way to salogdoong beach resort but first you will passed by the salogdoong man-made forest.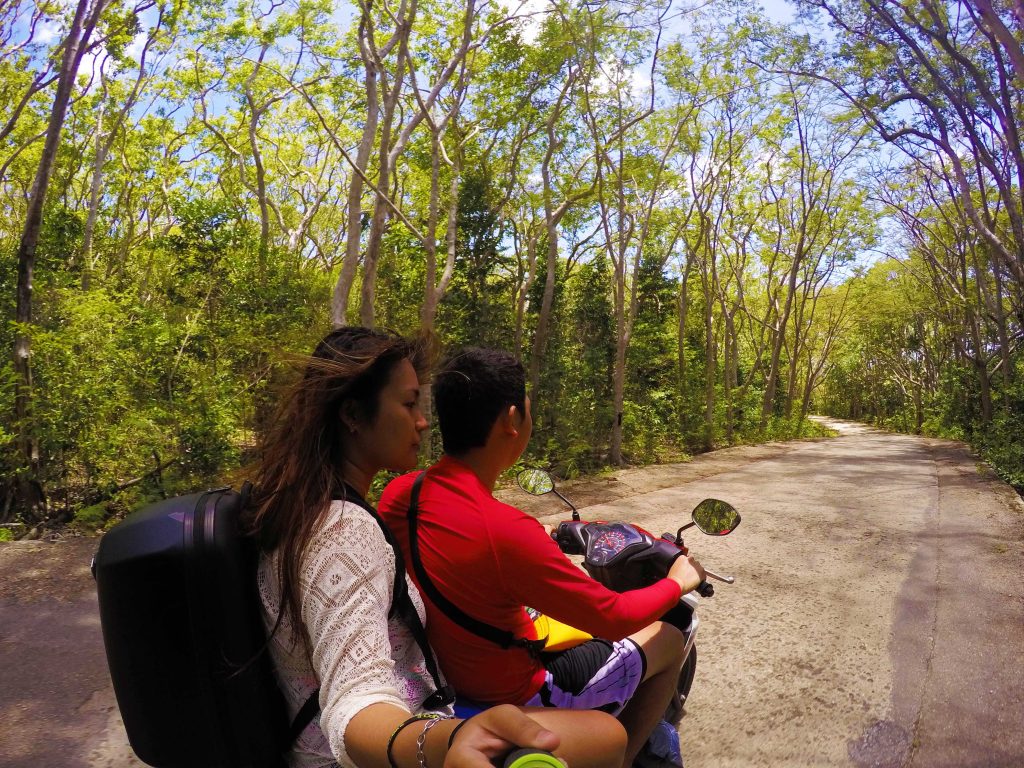 At Salogdoong Beach Resort
(You need to pay entrance fee of Php 25 per person and a Parking Fee of Php 20)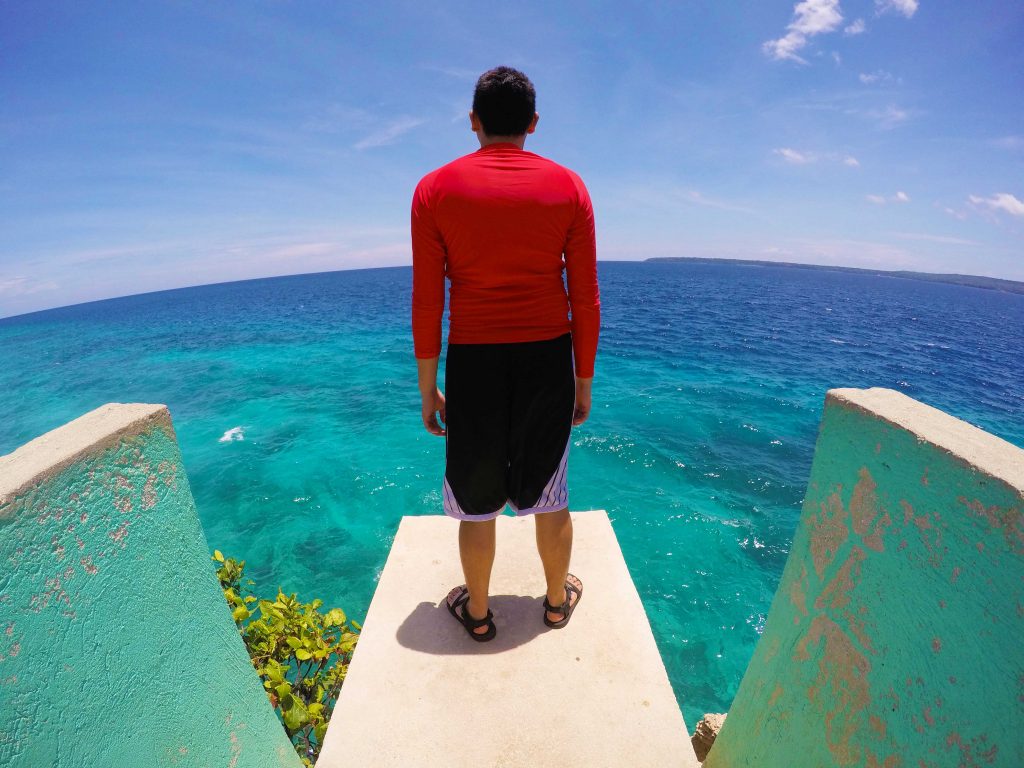 Cliff dive at their 2 boards or slide (which is under maintenance when we get there)
The Boyfriend is YOLO-ing even if the sea is very rough. For Me it's a No-No Moment. Not today.
We spend around an hour before we go back to the port. Ate our lunch at Joel Chicken Eatery besides the Church near the port.
Going back to Dumaguete we took again the available shipping lines at 3pm and that is the (GL Shipping Lines) again but for Php 130 (not aircon) + Terminal Fee of (Php14)
By the way Siquijor port have a free wifi.
*May i remind you that you should prepare your stomach if you are sea sick… going back is hella rough it makes us dizzy even we are not easily get sea sick*
Took as and hour and half just to get back dumaguete. We arrive at 4pm-ish in dumaguete port. Take a Bath and upload on social media.
Dinner at food2go near harolds mansion. (Cost us just Php170 for 3 viands, 2 rice and 2 soft drinks)
Call it a night. We have to wake up early 2:30am for Manjuyod.
? EXPENSES Good for Two
?
?GL Shipping Lines: 5 45am – 300

?Terminal fee – 30

?Rent a Motor – 300

?Gas (Full Tank) – 135.50

?Breakfast – 140

?Parking fee Enchanted Balete tree (10)

?Cambugahay Falls Donation/Guide (It really depends sayo at kung gaano ka ka generous) -140

?Cambugahay FallsParking fee – 20

?Salogdoong Beach Resort Entrance Fee: 50

?Parking Fee: 20

?Lunch at Joel Eatery- 130

?Ferry 288

?Dinner – 170
All in all less than – Php 1000 per pax.
This is Part 2 of our 7 day tour Siquijor X Negros