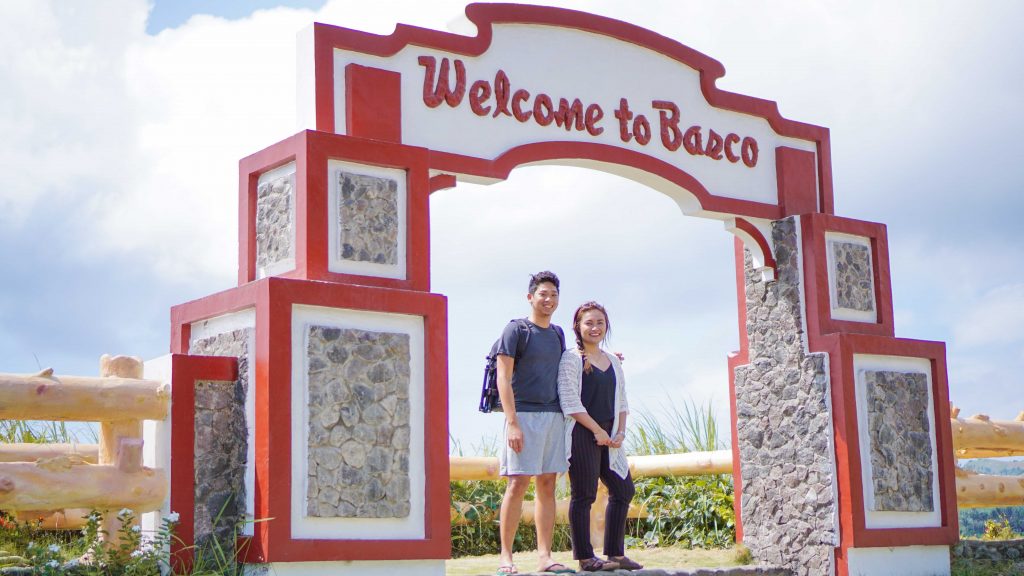 Planning your Trip to Batanes?
If you want to explore the whole beauty of Batanes you have to be in these 3 main islands BATAN, SABTANG, and ITBAYAT. Then you have to file your vacation leave at lease 6 days.
Reminder: No boat trips to Itbayat every Sunday. (There's only 1 trip per day) Be sure to be there on the port by 5:30am to list your name as a reservation, expected departure by 6:30am (the boat is mainly used for tranport of goods and locals).
If your trip falls on a weekend, start with the North Batan and then schedule the Sabtang Island the next day. But it's advisable to start your tour at Friday or other days aside Saturday so the next day you can immediately go to Itbayat then you can have a buffer day just incase you get stranded who knows? The Weather is unpredictable nowadays.
Things you need to bring and to prepare before going to Batanes.
Please keep the pamphlet that the tourism officer will provide upon your arrival and the eco tourism fee receipt because you will need that in certain places. You just need to show it to them.
DIY  Tour: Rent a Bike for Php25 per hour or Motorcycle for Php1000 per day.
Please consider securing your hotel bookings first. Due to limited accommodations on the island book your accommodation in advance.

Most accommodations in Batanes is by home stay and there are just few hotels you can choose. We highly recommend to stay in Vatan Inn Home stay (basco). 
For Basco, Batanes Accommodation
Cost:
Php1000 for Fan Room good for 2 pax. (Free Breakfast and Free Airport Transfer)
Php1500 Aircon Room good for 3 pax (Free Breakfast and Free Airport Transfer)
Kuya Jover (Contact Number (0998 5519 656) the owner and his staffs are very friendly and welcoming. Home from away indeed. SULIT!
They let us to left our bags at the hotel (without a fee) when we do the Itbayat at Sabtang tour. People from Batanes is very kind and trustworthy you can trust them your belongings.
For Sabtang Island Accommodation
We stayed on the Famous Sabtang Lighthouse Adela sa Fabres Rasayan Nu Ivatan Hometel & Tour Services (0921 496 7233)

Php500 per pax fan room. Shared room (free water, free to cook). Best view!
For Itbayat Island Accommodation
Levinda Lodge – Ph300 per pax for Fan Room and Php500 per pax for Aircon Room. You may want to reserve by contacting Kuya Bhong.
There are few coffee shop that's open until 9pm. Most stores are close by 8pm. Just walk along the Abad Street you will see tons of store there.
Savour their delicacies such as the following:
– SUPAS (Yellow Rice) Turmeric
– VUNES (Dried Gabby Stocks)
– UVED BALL (Banana Roots)
– LUNES (Pork Ivatan Adobo)
NOTE: TATOOS (Coconut Crab) is endangered now so please refrain from eating it. 
How to Save Money in Batanes
Bring ready to eat foods (such as cup noodles/bread some energy bar or chocolates it will save you few pennies)
Who to Contact Tours in Batanes
You can contact the BATODA (Basco Tricycle Operators & Driver Association)
They have new tariff effective December 02, 2017 (One way)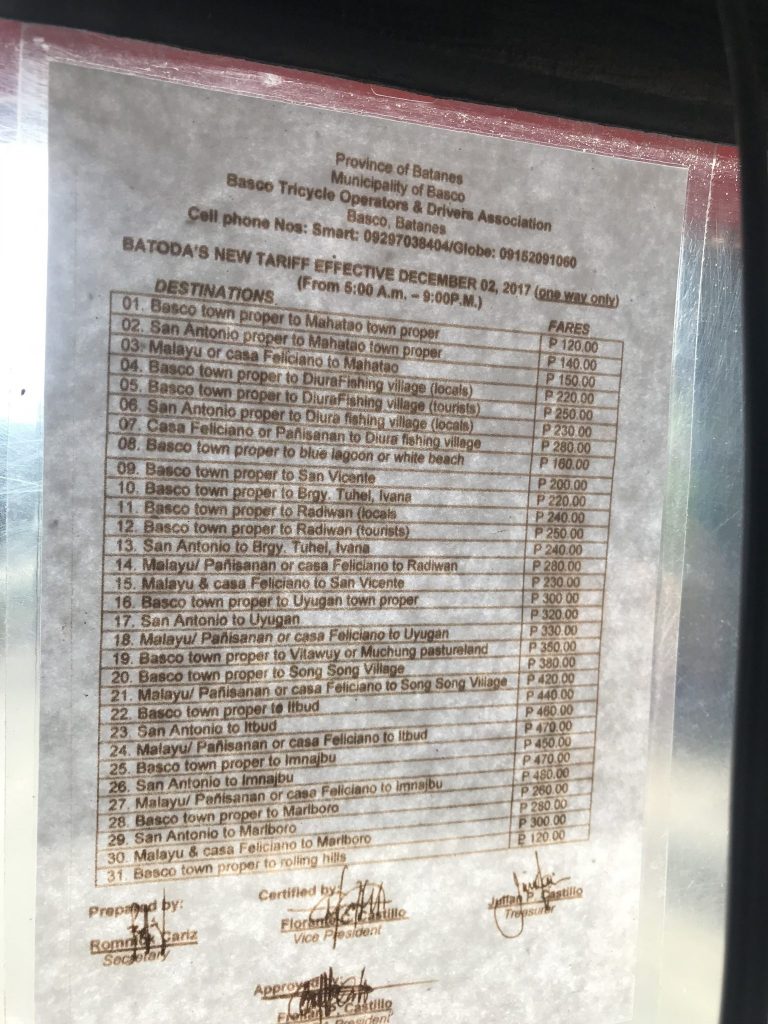 As a cheapo I prefer to DIY instead of a getting travel agency.
We recommend Kuya Victor/(Nephew of Kuya Eugene) Kuya Victor for North/South Batan Tour and Spring of Youth Tour. Kuya Erol in Sabtang Island and Kuya Bhong in Itbayat Island.
Contact Numbers:
■ Kuya Victor (North Batan/ South Batan/ Fountain of Youth) – 0928 627 8478
■ Kuya Erol (Sabtang) – 0918 455 2881
■ Kuya Bhong (Itbayat) –  ‭(0920) 217 5192‬
How much do I need to Prepare for Tours in Batanes?
North Batan: Usually cost Php1000 for 2 pax via Tricycle
If via VAN Tour that would cost Php2500 per van that would be cheaper if you are in a group. 
South Batan: (If you want a relax trip you can do this the whole day cost  around Php1500 for 2 pax via Tricycle.
If via VAN Tour that would cost Php3500 per van that would be cheaper if you are in a group. 
Sabtang Island – Php1,500 for 2 pax whole day tour via Tricycle and for just day tour guest that would be Php1,000 half day.
Itbayat Island – Php2,000 for 2 pax via Tricycle plus + 1500 for the guide fee. So it's best to go in group. There are only 2 Vans in Itbayat and Kuya Bhong has one of that. Van Rental would cost Php4,000 good for 6pax plus the Guide fee.
Spring of Youth – Not included on South Batan Tour but it's on the South Batan Php500 roundtrip tricycle for 2 to 3 pax.
For Van Rental you may ask VATAN INN because they have there own VAN. 🙂 
NEW: Batanes Area Museum and Satellite Office Opens Tuesday through Sundays (FREE Admission) 10:00am – 4:30pm
Sabtang Island Whole Day Destinations
Itbayat Island Destinations
Spring of Youth (15 to 20 minutes trek)