You can have your next getaway by not leaving Metro Manila. One good thing is you don't need to spend that much just to experience vacation that you deserve. Additional bonus is i pick the airbnb that totally INSTAGRAMMABLE!
Oh and by the way because you are here we are giving you Php1,100 off ($40 for your first adventure)
Get Your Discount Here
Industrial-Travel Theme at Flair Towers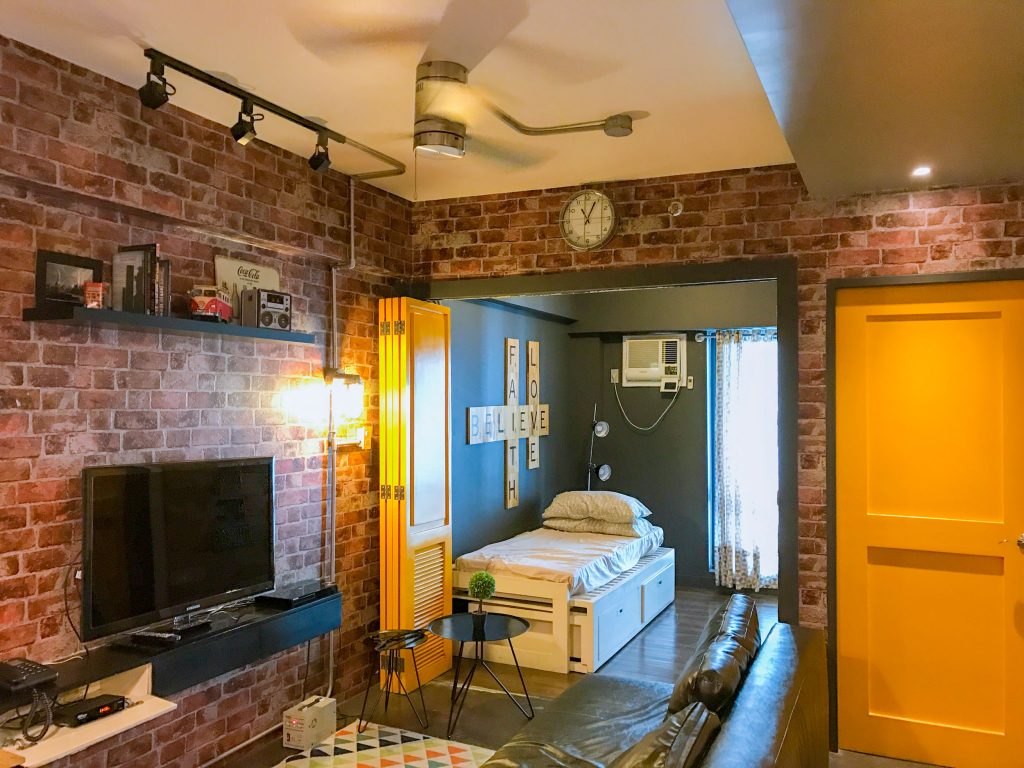 I celebrated my birthday in this place i really love the wall full of plates and it's rustic vibe. This magazine-featured Condo unit is a modern living concept…a new feel for those who want to escape the typical hotel atmosphere, and yet, still get the full amenities (plus more) of an apartment with a great view from the balcony.
Scandinavian Room at Axis Residence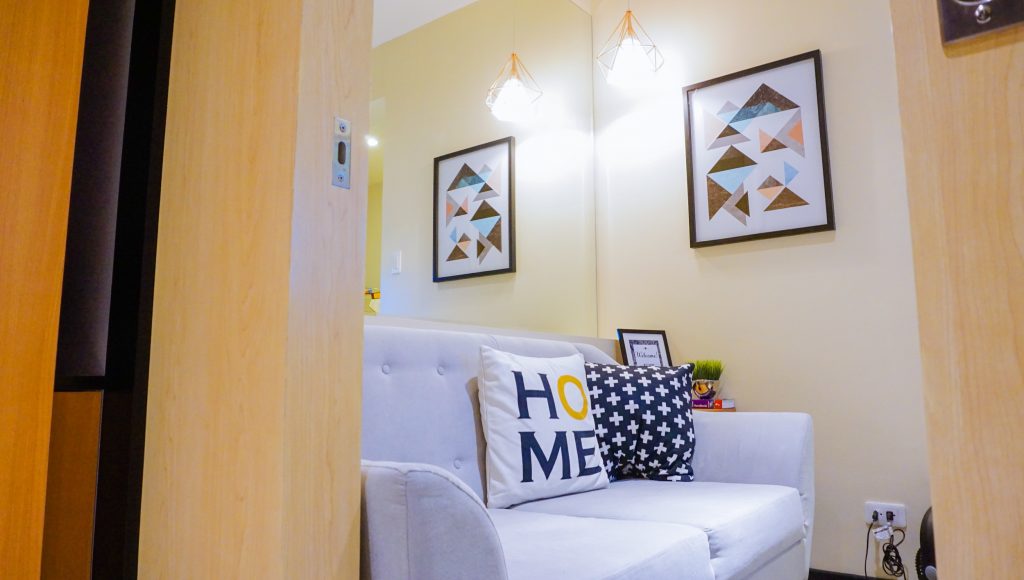 Celebrated some year-end love with my girlfriends in this cozy place1 bedroom for 3 persons.  Interior decorated, stylish and has a brand new appliances. It is definitely a cozy place to be an alternative to a hotel at a cost effective price.
The unit with a stylish "hotel feels" interior are furnished with cozy living room, fitted kitchen and modern style bathroom.
Modern Tropic Luxe Milano Versace Makati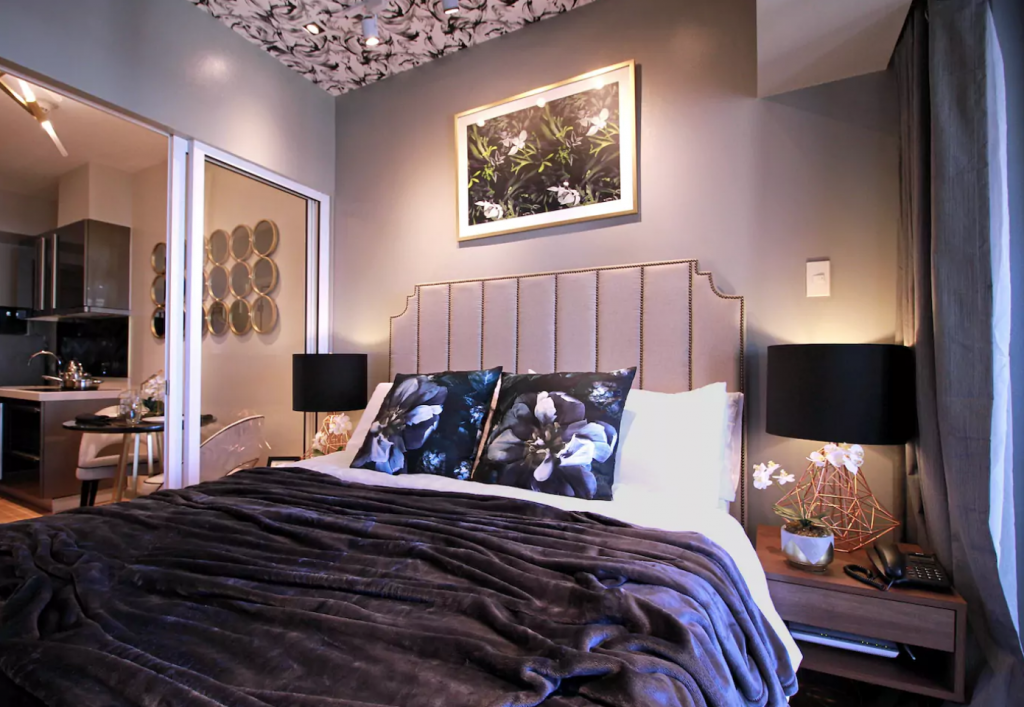 #OnMyStaycationList 
This luxurious living in this Modern Elegant designer flat with tropic luxurious feel in a Versace designed condominium at Century City Makati. Staying in this flat is absolutely remarkable with its five-star hotel ambiance and classy interior.
Modern Korean Penthouse Loft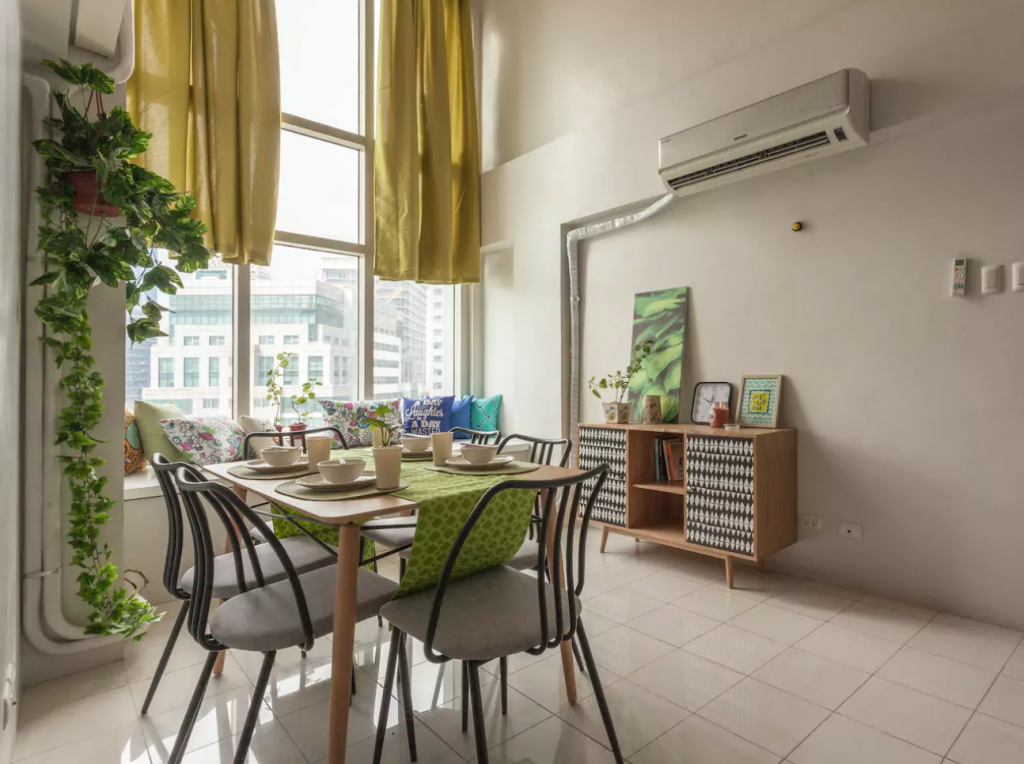 #OnMyStaycationList 
Beautiful, brightly colored penthouse loft at Eton Emerald Lofts celebrates natural light & skyline city views. With ample sunny spaces that drew inspiration from modern Korean aesthetic ideals, it feels spacious, light & relaxing.
Airy Greenbelt One Bedroom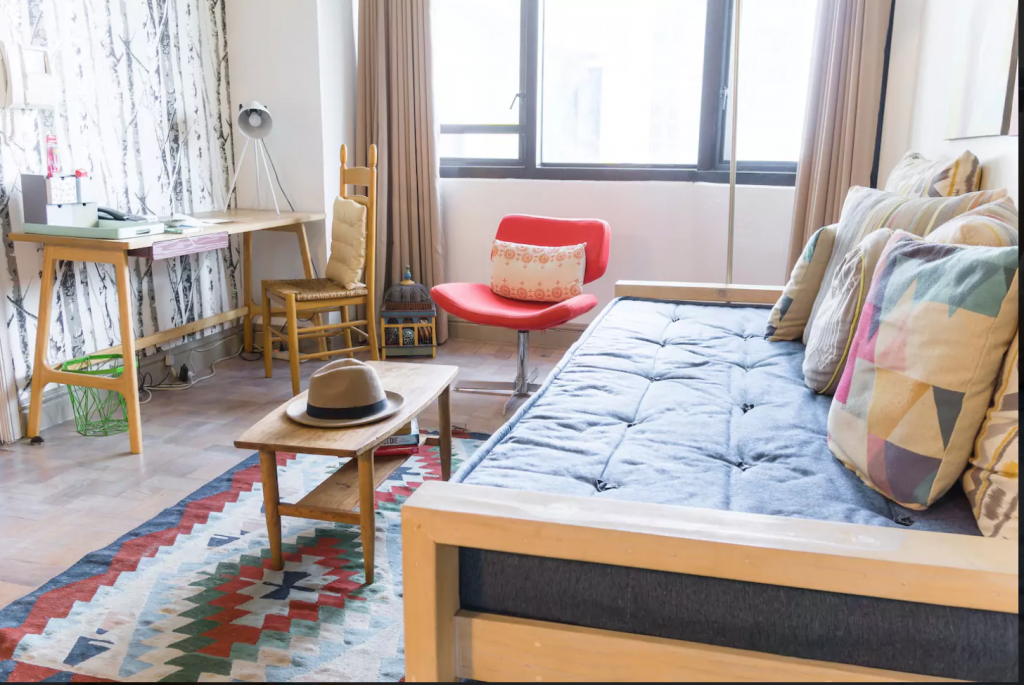 #OnMyStaycationList 
Very high ceilings and bleached narra parquet flooring, only found in older buildings.. the space feels organic, casual, and boho-fun! It was designed using locally-sourced reclaimed & repurposed furniture:
Modern Chic Room in Eastwood City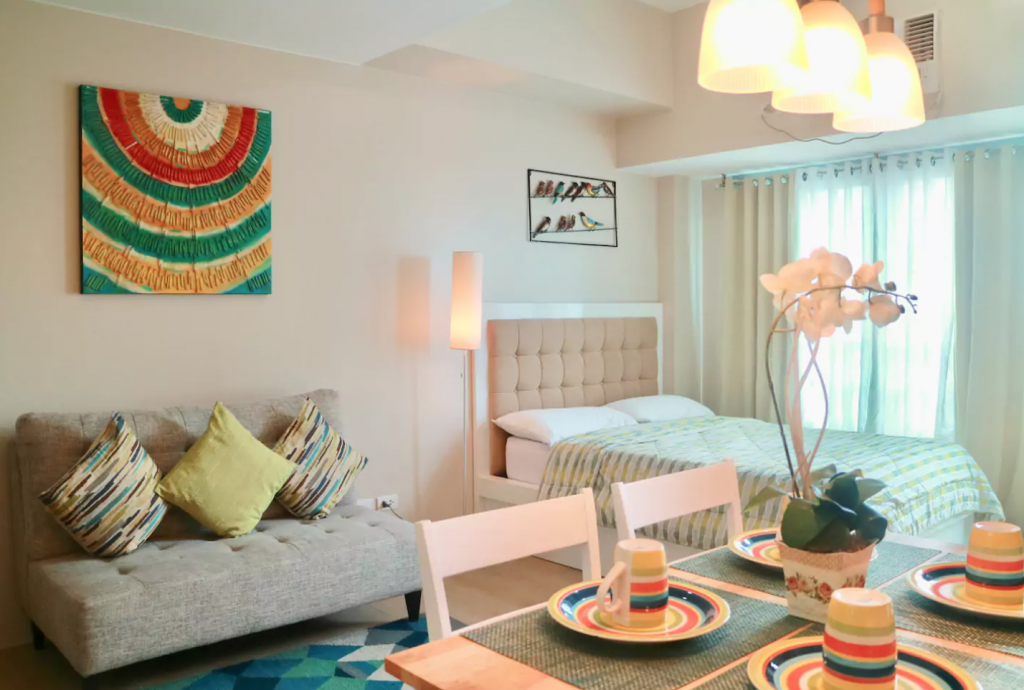 #OnMyStaycationList 
Brand new condo unit at Le Grand 3 Condominium in Eastwood Libis Q.C. has FREE ACCESS to the condo's swimming pool – a perfect stay-cation for family, friends or loved ones! Promo prices are available! (So you better check them out ASAP!)
3BR Penthouse, Mandaluyong, Manila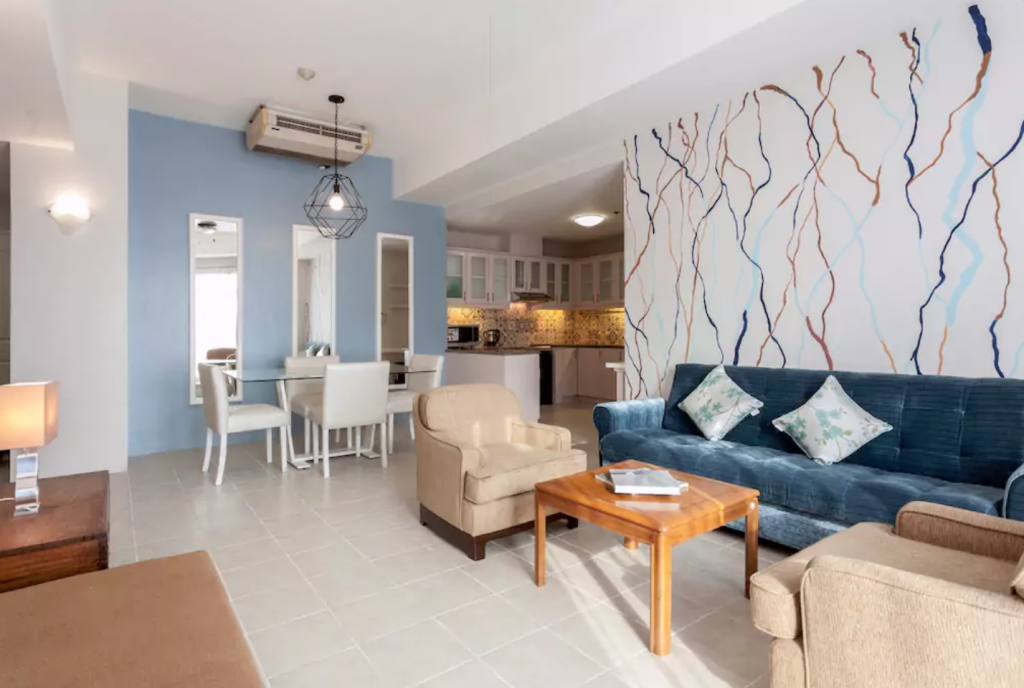 #FamilyStaycationMustTry!
The unit is spacious enough for small family gatherings . There is ample space in the kitchen for cooking and dining area is roomy enough to accommodate extra seating. All rooms (except service quarters) and living room are fully air-conditioned. Linen are fresh from the laundry, and place is thoroughly cleaned before your visit.
It is in a condo complex with a clubhouse, pool, sky lounge, convenience store and spa.
2 Bedroom Condo at Pioneer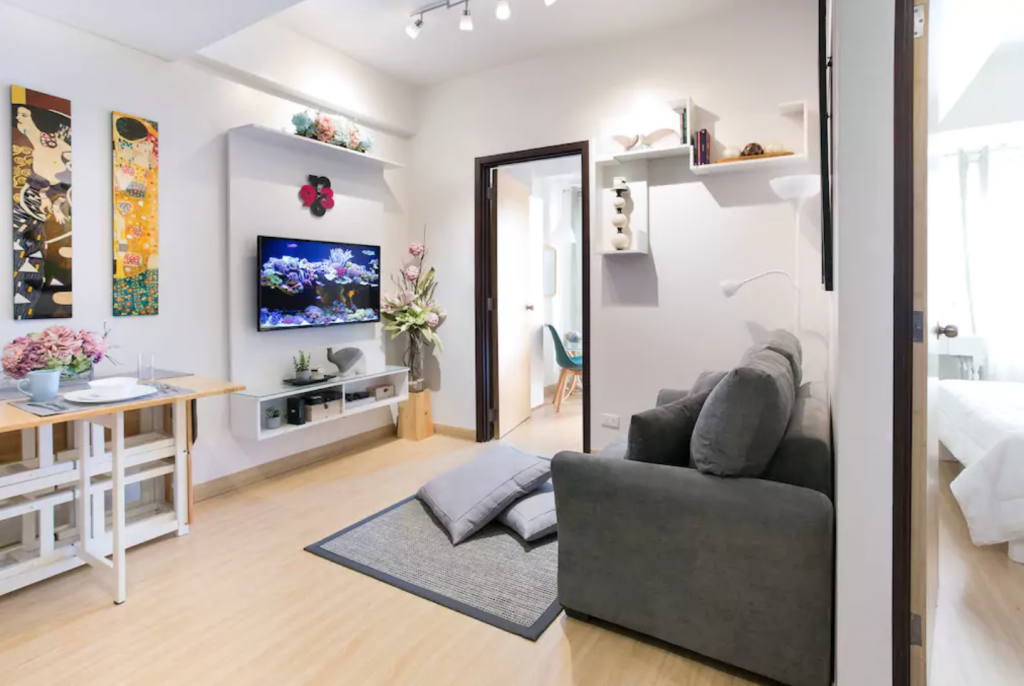 #StaycationList
This airy scandinavian inspired interior has 2 bedrooms; toilet and bath; a well-equipped and fully functional kitchen and ample cozy living space to ensure a relaxing and enjoyable stay.
Important note some of the Photos are from AIRBNB.  You reach here so yeah still Php1,100 off ($40 for your first adventure)
Get Your Discount Here.